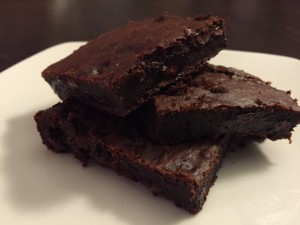 We all know that breakfast is the most important meal of the day but sometimes it can be tough. Toast, fruit and oatmeal get boring and a full blown breakfast is high in calories as well as time consuming. But with my vegan protein brownie recipe, a grab-and-go breakfast treat has never been so quick and healthy!
3 medium, overripe bananas, 1 cup mashed sweet potato or 1 cup mashed pumpkin
1/2 cup smooth almond butter, room temperature
1/4 cup cocoa powder
2 scoops of protein powder of choice (preferably plain or chocolate)
2 tablespoons swerve sweetener (baking grade granulated erythritol) (you may use any sweetener you like but I chose swerve to keep it sugar free)
1 teaspoon vanilla extract
Pinch of salt
1/2 teaspoon – 1 teaspoon espresso powder (optional)
Preheat the oven the 350 degrees, grease a small brownie pan or loaf pan and set aside
In a blender, food processor, or using your hands, combine all the ingredients until you've achieved a brownie batter texture
Pour the mixture into the greased pan and bake for around 20 minutes or until cooked through. Remove from the oven and allow to cool completely before slicing into pieces.