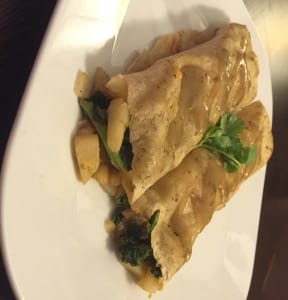 With my crazy travel schedule, I always have to find ways to use up fresh produce before I leave town. I make giant salads, soups that I freeze for later and all sorts of fun "filled" goodies. These vegan potato and kale enchiladas are just one of those "get rid of stuff" meals that turns our being a yummy fave!
These are vegan, gluten free, plant powered and delish!
2 large potatoes, diced
1 bunch kale
1 medium onion, finely chopped
3 tbsp. olive oil
1 tbsp. cumin
1 tsp. chilli powder
lime juice, to taste
salt and pepper to taste
1 cup vegan cheddar cheese
6 gluten free tortillas (I used Rudi's)
Creamy tomatillo sauce (recipe here)
cilantro, chopped for garnish
1. Preheat oven to 325 Degrees.
2. Take the diced potatoes and place them in a large pot filled with water. Boil the potatoes until they are soft, about 15 to 20 minutes and then drain.
3. Take the kale leaves off the stem and rinse to make sure they are clean. Chop the kale and set aside.
4. Take a large saute pan and drizzle with 3 tbsp. olive oil on medium high heat. Once the pan is hot, add the diced onions and cook until translucent, about 7 minutes. Add the kale and saute for another 10 minutes until the kale is completely cooked and wilted down. Add the diced potatoes and stir until evenly distributed. Season with salt, pepper, cumin, lime juice and chilli powder. Cook with all ingredients for about 7 to 10 minutes.
5. Now that the enchilada filling is cooked, take a tortilla, sprinkle a tablespoon of cheese, a generous tablespoon of creamy tomatillo sauce and then take about ⅔ cups of filling and spread in the middle of the tortilla, roll it up, and place inside a large rectangular dish, seam side down. Repeat process until all filling is completely gone. Should make anywhere between 6-­8 enchiladas (if you make more than 6 you may want to get another can of enchilada sauce).
6. Pour more tomatillo sauce evenly over the enchiladas, saving a bit more to add fresh for serving. Place inside the oven for 10 minutes.
7. Add more sauce on top, garnish with chopped cilantro and serve.