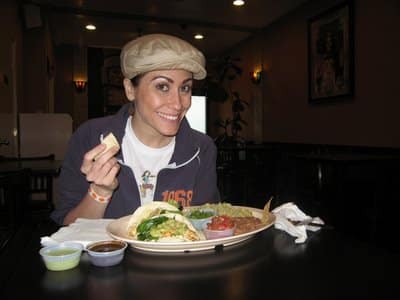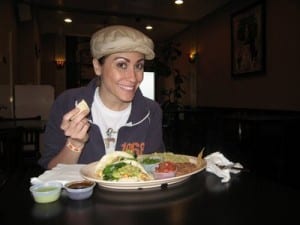 Growing up in South Florida, Cuban food was my vice (even though I'm Colombian). When I go home, it still is even though I have found some pretty good Cuban fare here in town to quench my fix. But in LA, Mexican is the way to go because nothing beats killer guac and a big ass marg! Oddly enough I'm probably as close to Mexico where I live now as I was to Cuba in when I lived in Miami, haha! So whether you're a local or planning a visit to the city of Angels, I've compiled a list of my favorite taco, burrito and enchilada spots in town that are not only boss, but healthy too! Get your GPS's ready and map out your taco crawl!
In no special order (as they all have rockin' choices):
The Taco Spot in Eagle Rock – offering a bunch of veggie and vegan options, the Taco Spot has choices like

soyrizo

, tofu, sauteed veggies and/or potato filling for

their

tacos, burritos, enchiladas and breakfast items. The rice and beans are all vegan as they do not use lard and everything is

veganizable

if you just ask for no cheese or sour cream. They've got traditional food as well so it's a great place for a mixed crowd as no one will be left out and no one will leave hungry!
Hugo's Tacos (2 locations) – Not your typical taco stand, Hugo's boasts fresh, organic food for all types of hungry folk. For the

greenies

, we have a few

delish

options of fillings such as veggie or soy

chorizo

with potatoes. The

Torta

Ahogada

can be

veganized

and at the

Atwater

Village location, they've got soy cheese for

quesadillas

, etc. You get a choice of heat on your meal, from

wimpy

to the flames of hell! oh, and the

Atwater

location has soy soft serve ice cream!!!
Gracias Madre – The brainchild of the folks of Cafe Gratitude, this popular San Fran treat has made it's way to LA. Featuring organic, vegan Mexican food and drinks, not only is the cuisine fabulous, the ambiance is second to none!

Mexicali

in Studio City – This place is great for a night out with a group of pals for fun, celeb watching and

margatinis

. Yeah, I said it right ; ) Those are awesome and their regular

margs

are pretty close to perfection too. They too are very veggie friendly with veggie burritos and potato tacos along with some large,

veganizable

salads. The best night to go is Monday for their 30% off the entire menu and bar happy hour, all night long. Find them at 12161

Ventura

Blvd, Studio City, CA 91604 (818) 985-1744

Casa

Vega in Sherman Oaks – Best

margs

in town and they are great for the long waits to get in this joint. It's a fun vibe and the secret yum dish here is their vegetarian

Mexican

pizza (

veganizable

by holding the cheese and then slathering on a ton of

guac

). With a little

vegan

manipulation, their spinach enchiladas are incredible with green sauce. I ask for no cheese or sour cream, extra everything else. This, like Mexicali, is a place to see and be seen but the food and libations are what draw out the

Angelenos

; )
Tacos at Real Food Daily (2 locations) – Some of the first vegan tacos I ever had, were these. They are a vegan classic in my book. Melt in your mouth

seitan

taco meat with fresh veggies, vegan cheese, stuffed into an extra crispy hard shell and a side of their ridiculous

guac

– dude! I dare you to just eat 1. I don't think you can ; )

Machos

Tacos in Los

Feliz

– Another taco stand to be reckoned with. The

veggie

taco and burrito are pretty standard and

veganizable

but the sweet potato taco will knock you off your feet for sure. Check them out at 1670 N Vermont Ave, Los Angeles, CA 90027 (323) 665-6677
Pure Luck Cafe in Hollywood –

Ok

, the whole damn menu is fantastic here but since we're chatting Mexican food, the picks here are obvious. The

jackfruit

carnitas

or tofu tacos are phenomenal but man can they do a great

faux

fish taco, their

baja

taco is to die for. All of these can be made as burritos as well so get over to Pure Luck with an empty belly!
Sky's Gourmet Tacos in West LA – Their newly added veggie menu is also vegan. No lard, vegan cheese, 100% tasty goodness. Tacos, burritos,

quesadillas

,

tortas

and burgers with all of the

fixin's

, Sky's is one of the best choices in town for South of the Border

scrumptiousness

!

Alegria

in Silver Lake – A full on healthy

Mexian

restaurant,

Alegria

is a cute diner with an innovative menu. I'm a sucker for the vegan

tostada

; prickly pear cactus sauteed in cilantro, garlic, onions and tomatoes served on crispy tortillas, vegan beans and salad.

Soooo

yummy! The tacos and burritos can all be

veganized

and the veggies there a mega fresh as is every dish that comes out of

Alegria's

kitchen ; )
Leonor's Vegetarian (3 valley locations) -Leonor's is a great place but if you're vegan, you need to let them know as their soy cheese is not vegan and some of their soy meat dishes aren't either. But you can still have awesome meals there like their burgers and tacos, the broccoli or spinach

empanadas

are great and

their

pizzas are delectable. You can visit them at 1 or all of their valley locations and make sure to ask before you order if you're vegan ; ) You'll be very happy you did!
El

Torito

(various locations)- I know, it's

sacrilege

to do chain Mexican in LA but sometimes you gotta go and it ain't so bad. I happen to think the fresh, table side guacamole is some of the best in town. And their veggie burrito is no joke as it is fully stuffed with spinach, mushrooms, squash, zucchini, and avocado and served with vegetarian pinto beans. That all goes down really well with one of their icy margaritas ; )
El

Cholo

(several locations) – Somewhat of a chain, El Cholo is an LA staple. ANother place with yummy table side guac, they have a yummy veggie fajita plate (veganizable when you hold the cheese and sour cream). Not a sizzling heap of filler veggies either, it's quite the harvest on a smokin' skillet. Not to be missed!!
Love, Peace ad Taco Grease!!