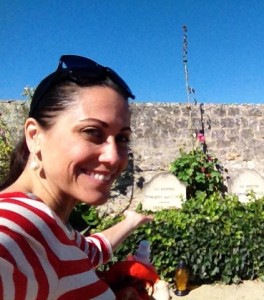 Just a short hour or so train ride outside of Paris, you will find Auvers Sur Oise. A great little French countryside town famous for it's ties to Vincent Van Gogh. He not only lived there, he painted famous works there, dies there and is buried there! In fact, I had lunch with him and his brother, Theo, at their final resting place.
It is a gorgeous little town complete with rolling hills, lots of art history,especially all of the great Van Gogh points of interest, along with neat places to dine. A must see is the Van Gogh museum, located at the famous restaurant and hotel, Auberge Ravoux , where he lived and died. Be sure to get a map and visit all the places he frequented and pay him a visit too!
But after that, be sure you have time for some food!
Upon arrival to Auvers, I needed a quick bit and Elite Pizza delivered. With gluten free crust options and lots of veggies to load onto your pie, have some while dining in as well as on the go while sight seeing!
For a fun, fine dining experience, check out Nuage De Saveurs. Plenty of veggie options as well as vegan, it's a wonderful place for dinner after a day with Van Gogh! The Vegetable risotto is great and must be followed up with some fresh sorbet!
I popped into Sous le Porche for a meal and loved what they had for special diets. From fresh bean salads to hearty pastas, the chef at Sous seems happy to accommodate!
If you're in the mood for some spice, check out La Menara. A traditional Moroccan eatery, many of the dishes are easily veganized and absolutely delightful. From cous cous to traditional salads, it's tasty and affordable!
Well, that's a wrap on France for now, next week, Berlin!