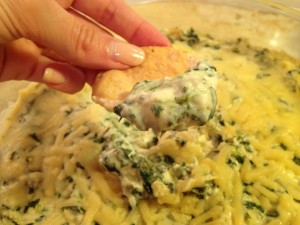 Summer time is synonymous with chips and dips. Salsa, guacamole, hummus, etc, it's all good slathered on chips, veggies and even crusty chunks of bread. Spinach artichoke dip is an American staple and is fabulous cold or hot! I've teamed up with Go Veggie to create a delicious dish featuring their new vegan Grated Parmesan and boy does it make for a tasty treat!
1 can (14 oz.) artichoke hearts, drained, chopped
1 pkg. (10 oz.) frozen chopped spinach, thawed, drained
1 cup Go Veggie Grated Parmesan Cheese
1 cup vegan mayonnaise
1 cup vegan sour cream
2 clove garlic, minced
1 tablespoon lemon juice
1/2 cup minced white onion
1 teaspoon fresh ground white pepper
Salt, to taste
½ cup Go Veggie Vegan Mozzarella Style Shreds, for topping
Preheat the oven to 350 degrees F. Grease a casserole dish with nonstick spray.
Combine all the ingredients, except shredded cheese, in a large bowl, stirring until all ingredients are well incorporated. Scrape into the prepared casserole dish and sprinkle shredded cheese on top.
Bake for 20-25 minutes.
Transfer to a chafing dish and keep warm over a low flame.  You can also use a small crock pot to keep warm and melty. Serve with pita chips, tortilla chips or cubes of sourdough bread.