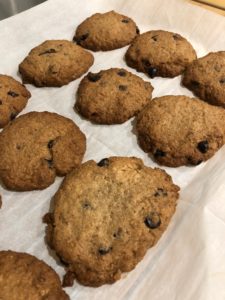 Who doesn't love cookies? Sadly, many people can't indulge in conventional cookies due food allergies and other dietary restrictions. So it's always nice when and easy recipe comes along that everyone can enjoy! Check out my easy and tasty vegan cashew chip cookies recipe that is also sugar and gluten free!
1 cup cashew butter, oil well mixed in (if you are allergic, use sun butter or whatever nut butter you aren't allergic to)
1/2 cup monk fruit granulated sweetener
1 flax egg (1 tablespoon ground flaxseed mixed with 2 tablespoons warm water)
1 teaspoon vanilla extract
1/2 cup stevia sweetened chocolate chips (I use Lily's)
Preheat oven to 350 degrees
Mix all ingredients until you've achieved desired cookie dough consistency.
Take 2 tablespoons of dough, roll and place dough balls on a parchment paper lined cookie sheet, evenly spaced. Once all dough balls have been placed, flatten and place into over. Allow to bake for 17-20 minutes, until golden brown.
Remove and let cool on cooking rack until fully cooled and crispy.