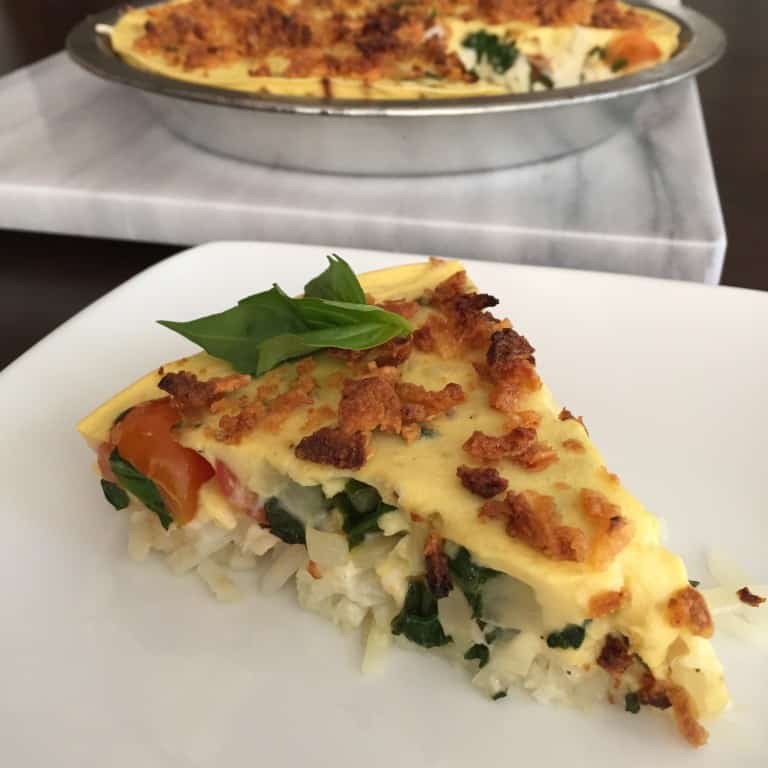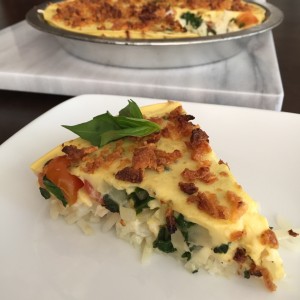 Mmmm, who doesn't love a frittata! Savory and perfect for a lazy brunch. And now, thanks to the innovators at Follow Your Heart, vegans have an egg substitute that is soy and gluten free and perfect for frittatas! This vegan frittata breakfast pie recipe combines all your breakfast faves like hashbrowns, eggs and even bacon! Enjoy!
2 cups Shredded Hash Brown Potatoes, thawed
1 cup diced onion, divided
1/2 cup vegan shredded mozzarella cheese
2 tablespoons olive oil, divided
3 cups packed fresh spinach
2 garlic cloves, minced
1 cup diced tomato
1/2 cup-1 cup chopped mushroom
4 vegan eggs (by Follow Your Heart)
¼ cup unsweetened almond, soy or cashew milk
salt and fresh ground pepper, to taste
Vegan bacon bits, for topping
Preheat oven to 375.
In medium pan, add one tablespoon of olive oil and saute hashbrowns with half of the diced onions until well incorporated.
Spray a 9-inch pie plate with cooking spray; press down the Shredded Hash Brown Potatoes/onion mix into the pie plate.
Bake for 8 minutes; remove from oven top with shredded mozzarella and set aside.
Heat olive oil in a skillet and sautee garlic for 1 minute, until fragrant. Then Add spinach, remaining diced onions, mushrooms and tomato; cook for 3 minutes, or until spinach is wilted, stirring frequently.
Remove from heat and spread sauteed vegetable mix over potatoes.
In a mixing bowl, whisk together eggs, milk, salt and pepper; whisk until thoroughly combined.
Pour over all ingredients in the pie pan until covered and to the rim. Top with vegan bacon bits.
Bake for 30 minutes, or until top is golden brown.
Let cool for 10 minutes before cutting and enjoy!