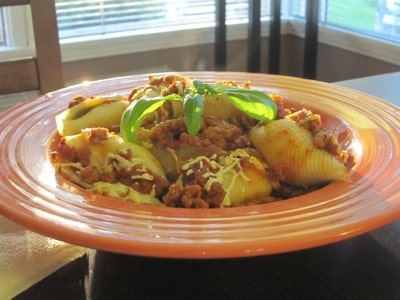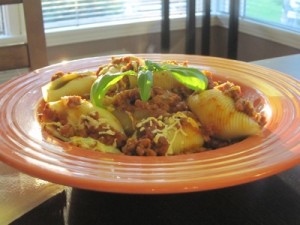 Looking for a way to knock people's socks off? This non-"vegany" tasting dish is sure to please herbivores and carnivores alike.  It's hearty, full of flavor and will make you feel like your dining with Tony Soprano ; ) A dish that would definitely be Carmela approved!  The "ricotta cheese" will last for a double recipe so be sure you have a lot of mouths to feed or freeze the cheese for later. But don't "fugetaboutit"!!
Carmela's Vegan Cousin's Tofu Ricotta Cheese
1 14oz package of firm tofu, drained
1/3 cup yellow miso (if you want it saltier, go for 2/3 cup)
2/3 cup water
1/2 cup cashew nut butter (unsalted, raw)
1/4 olive oil
5-7 large garlic cloves
1 Tablespoon of lemon juice
A handful of fresh basil
Half a handful of fresh oregano
sea salt & fresh milled black pepper to taste
Toss all of your ingredients in a food processor until well incorporated. I like mine a little chunky so I pulse it but feel free to puree it if you want a more creamy texture. Freeze what's left for the next recipe or make a double batch of shells ; ) You may want to pulse it a few times to taste before moving forward as you may choose to add more herbs or seasoning because if you blend to the consistency you want, you may want to add more seasoning but will need to blend it past the consistency you desired. Better to not blend enough then blend to much!
Paulie's Favorite Vegan "Meat" Gravy
1/4 cup extra-virgin olive oil
12 large garlic cloves, minced
32 organic Roma tomatoes
2 1/2 tablespoons organic sugar
1 1/2 tablespoons kosher salt
2 teaspoons crushed red pepper flakes
8 ounces fresh basil (about 2 large bunches) washed, stemmed, and sliced into strips
Your choice of vegan meatballs, cooked & minced, or vegan ground beef substitute (sauteed in olive oil, salt, pepper and Italian seasonings)
Remove the skins from the tomatoes by blanching them in boiling water: bring a large pot of water to a boil, Score the top of each tomato with an "x", drop tomatoes a few at a time into the boiling water and remove with tongs after 15-30 seconds. Cool for a minute and peel off the skin. Repeat until skin is removed from all the tomatoes.
At this point, you can either put the tomatoes through a press to remove the seeds, or simply cut the tomatoes in chunks, reserving the tomato juice. Set aside.
Heat the olive oil in a 5-quart pot or Dutch oven over medium-low heat. Add the garlic and cook until fragrant and golden, about 2 minutes. Add the reserved tomato juice and bring it to a simmer. While the liquid comes to a simmer, tear the tomatoes into pieces and add them to the pot. Stir in the sugar, salt, red pepper flakes.  Then add the basil, stir, and cover the pot.
Reduce the heat to the lowest setting and cook about 2 hours, stirring occasionally. If after 2 hours the sauce looks thin, remove the lid, increase the heat to medium, and let it cook down for a bit. Add in your minced
"meatballs" or vegan ground beef and stir in.  Freeze surplus sauce for later because it makes a lot!
Making 'da Shells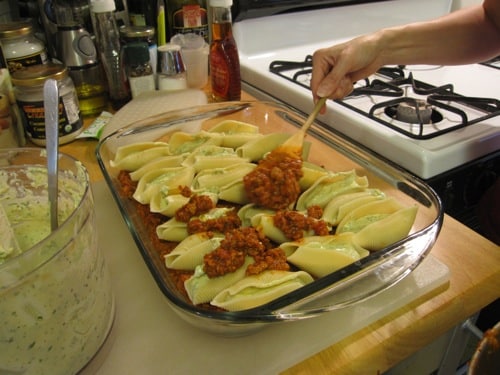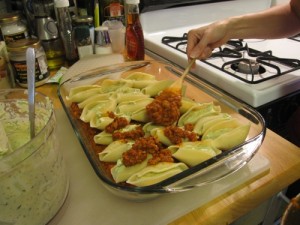 Boil a box of medium to jumbo sized pasta shells of your choice. Drain thoroughly. Preheat the oven to 350 degrees.
Fill the bottom of your casserole/lasagna dish with the  "meat" sauce. Line up the shells in organized rows and fill them with a tablespoon or so of the ricotta cheese. Once filled, cover the shells with the remaining "meat" sauce and sprinkle your choice of vegan mozzerella cheese on top. A good amount gets really gooey and melty, yum!
Place the casserole full of shells in the oven for about 10-15 minutes or until the cheese is nice and melted but not burned. Serve them up with plenty of sauce and enjoy!