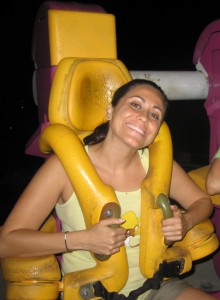 There's nothing like hitting up theme park during the summer. Families, couples and groups of friends all make time to let out their inner child and splurge on a theme park day-cation or full on vacation. Of course, nothing rounds out a day at the park like overpriced churros, popcorn, soda and fries. Right? Well, not only does this kill your wallet, it kills your day. All that walking, standing and hangin' out in the park requires energy and stamina. Through in some kids, purses, bags of souvenirs and you're ready to keel over by mid day. Yes, have a treat but don't make the whole day a throw away as you will be paying for it hard later. Below are some tips on making your magical day everything it should be as well as specific eateries at some of the most popular parks across the country!:
Drink water!!! Skip the sodas as that will only dehydrate you and wear you out quicker then you can say Mickey Mouse.
Pack snacks like trail mix and healthy bars like vega, lara, purefit and goodonya's. They will curb your sweet tooth and munchies, save you money, and save you from the mountains of sodium, sugar and preservatives found in the low grade park food.
If you can swing it, pack your own lunches. Most parks have lockers available somewhere near the entrance of the park so bring a squishy type cooler and pack some delicious sandwiches, fruit and sides. You and your group will save a TON of money and will actually be full after picnicking with your own meal. Most park food is small, expensive and quite frankly, bland. It keeps you grazing all day and before you know it, you just blew next month's rent!
Wear sunscreen, sunglasses ad light clothing. The heat that emanates from the sidewalks and pavement can give you a heat stroke in no time. You may want to wear a swimsuit underneath your clothes for those water rides as well. This way, you won't be caught in the chilly breezes of the night as that is terribly uncomfortable.
Don't carry to much stuff. Ladies, a small, sling over purse or satchel with the essentials is fine. If you over stuff your bags, you can really do some damage to your shoulders and back leaving you motionless by the end of the day. If you need more stuff like a sweater for the evening, food, etc, leave it in a locker and get it later.
Here are some of the best places to dine at major parks across the country. Sometimes you just gotta treat yourself so make sure you make smart choices:
Let the kid in you go wild but let the adult in you keep your health on track this summer!!