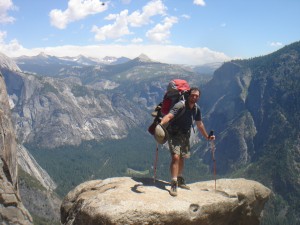 Welcome to our Radical Sabbatical Feature! First person stories of inspiration by people who have changed their lives for the better by walking away from jobs, people and other things and life that no longer made them happy or served them well.  This week, let's meet Steve, in his own words!
"Seven years ago, I left a lucrative consulting position with an investment firm to take people backpacking in order to lose weight.  Since starting Fatpacking, I have been to numerous National Parks and other stunning backcountry destinations that my former co-workers use to adorn the walls of their cubicles.
For what it's worth, Fatpacking guides participants on wilderness hiking adventures to get fit, lose weight and alter body composition.  People return to their lives fitter, fresher, rejuvenated and quite often with a new passion for backpacking and the wilderness.
While my financial position has admittedly suffered markedly by this endeavor, my quality of life has increased substantially.  Sure there are lots of stresses in running a business, but they are mostly real stresses due to actual conditions and happenstance, not artificially contrived stresses by power hungry corporate weasels jockeying for a slight political advantage over you.
Some people even find what I do to be inspirational.  I think this is because they are quick to affix the label "inspirational" to someone who gives up money and security to live their life poorer but happier.  It's a common fantasy for many people stuck in mediocre, spirit-crushing but stable and reasonably well-compensated positions.
I've been fortunate enough to make it work, although it means living on the edge financially … driving an older car, giving up concerts and other events and wearing ripped jeans (although lucky for me, ripped jeans are somehow stylish).
Of course for all I know, I may have to go out of business next week.  But so did Lehman Brothers, so it could happen to any business."
To be considered for our radical sabbatical feature, please send us a message on our Contact Us page!