*This is a sponsored post written by me on behalf of Minute® Ready to Serve Rice.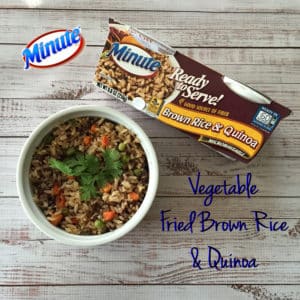 It's back to school time and that means back to busy schedules, rushed meals and convenience eating. But what if I told you that you could have a tasty, wholesome meal in minutes, perfect for back to school nights? Yep, Minute Ready to Serve Rice has delicious varieties of nutritious ready to serve cups and bowls, perfect for on the go eats!
Minute® Ready to Serve Rice is an ideal portable solution for any meal because you can eat it on the go, straight from the cup or bowl! So convenient! In just 60 seconds, you have fully cooked rice for any meal or snack.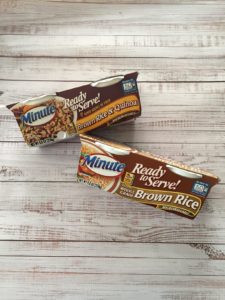 What's more, because of the pre-portioned sizes, Minute® Ready to Serve Rice provides easy portion control. A great way to keep an eye on that figure well after swim suit season is over! Conveniently packaged in two individual single-serve cups, these easy meals save you time, money and your waistline!
And you don't have to eat these tasty morsels on their own. Try mixing in your favorite ingredients with your favorite Minute Ready to Serve Rice like a protein and veggie for a balanced meal! I love mixing in my Brown Rice and Quinoa Minute Ready to Serve Rice with steamed broccoli and black beans for dinner or for lunch, I toss it in with greens, tomatoes, onions and a yummy dressing for a filling salad!
Available in many varieties including:
Brown Rice & Quinoa – New!
Basmati Rice – New!
Brown Rice
Brown & Wild Rice
Multi-Grain Medley
Jasmine Rice
White Rice
In fact, I "refreshed" my fave Quinoa Fried Rice Recipe using Minute Ready Serve Rice! Here's the recipe:
3 tablespoon vegan butter
1 cup  Minute Ready Serve Brown Rice and Quinoa
2 tablespoons vegan chicken bullion
1/2 cup diced green onion
2 teaspoons minced garlic
1/2 cup bean sprouts
1/2 cup diced carrots
1/2 teaspoon sugar
1/4 to 1/2 teaspoon ginger
2 or 3 tablespoons soy sauce or tamari
1 (10-ounce) package frozen sweet green peas, thawed and cooked
1/2 cup cubed extra firm tofu, pressed, drained (optional)
1 tablespoon sesame oil to sauté tofu in (if using)
Melt butter in large skillet and sauté quinoa, onion, garlic, bean sprouts, and carrots for 4 to 5 minutes. Stir in bouillon, sugar, ginger and soy sauce. Stir well to make sure all ingredients are well incorporated.
Stir in peas and cook for 1-2 minutes. If you'd like to add tofu, sauté your diced tofu for about 5 minutes over medium heat in about a teaspoon of sesame oil then add it in with the peas. Enjoy!
With all these delicious and nutritious options, lunch, dinner and snack time just got better!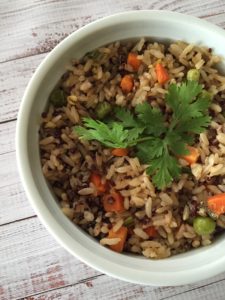 *This is a sponsored post written by me on behalf of Minute® Ready to Serve Rice.