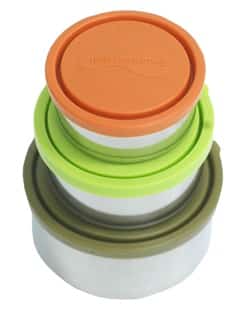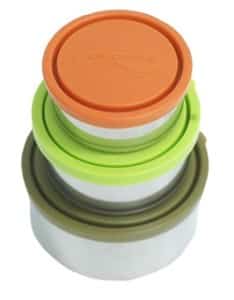 It's that time of year again, packing lunches in a hurry and trying to be sure you're kids will actually eat it.  Along with that stress, you also want to take every opportunity to give your kids whole, nutritious foods.  A great way to save time, make lunch fun as well as nutritious for your little students, is to pack finger foods in fun ways. The Kids Konserve Nesting Trio is a great way to do just that!  Here are a few recipes for a Mediterranean themed meal that fits snug into the trio and will go happily into your child's belly!
In the Large Container – Toasted Pita Points
6 whole grain pitas
4 tbsp olive oil
1 teaspoon dried oregano
salt & pepper
Cut each pita in half and then into 8 wedges. Arrange the pita wedges on a large baking sheet. Pour the oil over the pitas. Toss and spread out the wedges evenly. Sprinkle with the oregano, salt, and pepper. Bake for 8 to 12 minutes, or until toasted and golden in color.

In the Medium Container – Crunchy Dill Hummus
1 (15 oz) can garbanzo beans, rinsed and drained
2 tbsp freshly squeezed lemon juice
1 tbsp tahini
1/2 tsp salt
1 clove garlic, minced
¼- 1/3 cup olive oil  (depends on how creamy you like it)
1 cup cucumber, peeled and diced
1 heaping tbsp fresh dill, minced
In a food processor, add garbanzos, lemon juice, tahini, salt, and garlic. Turn processor on and slowly drizzle in olive oil, until it's creamy enough. Add in cucumber and dill, and pulse a few times until well combined but not fully incorporated, leaving some crunchy bits of cucumber. Allow to chill in the refrigerator for an hour or so.

In the Small Container – Sunny Tomato & Olive Tapenade
1 4 ounce jar sun-dried tomatoes packed in oil, drained (reserve the oil)
1 cup pitted black olives
2 tbsp chopped fresh basil
3 cloves garlic
1/2 cup capers
1 1/2 tsp Parmesan cheese or vegan Parmesan substitute
salt and pepper to taste
Place all ingredients in a food processor. Add 2 – 3 tablespoons of the oil from the sun-dried tomatoes. Process until desired consistency is reached. Tapenade should be course with some chunks, not smooth and creamy.
Enjoy on Meatless Monday!