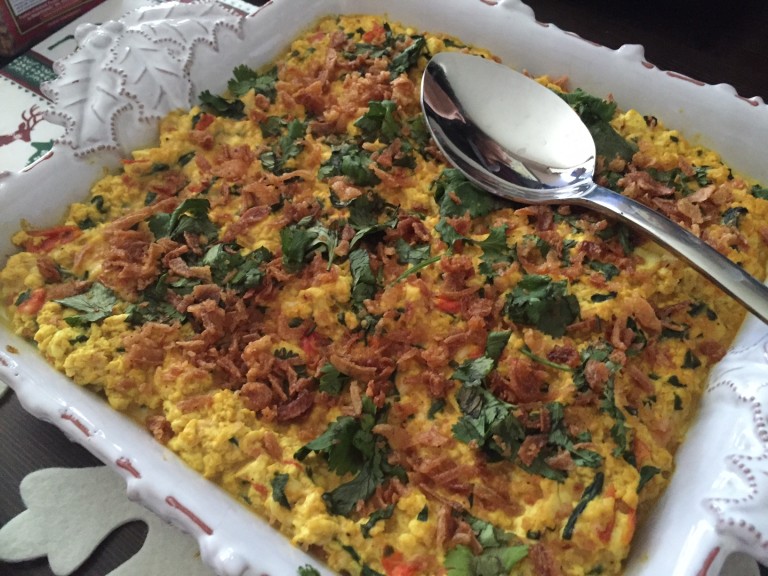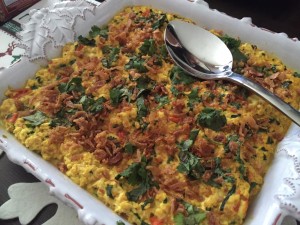 This time of year, we're all still staying warm and spending time with friends and loved ones over warming meals. But we're also looking for healthier options so that's why my Latin Style Tofu Scramble is a great way to enjoy a warm and tasty breakfast or brunch while also filling up with healthy goodies!
1 large block of firm tofu, pressed, drained and cubed or crumbled
1 clove garlic, finely diced
1 green onion, finely chopped (whites and greens)
1 (15 oz) can black beans, drained
1 medium tomato, finely diced
1 heaping handful spinach, finely chopped
1/2 – 1  teaspoon cumin, to taste
1/2 – 1 teaspoon turmeric, to taste and color preference
1 teaspoon lime juice
1/4 to 1/2 cup vegan cheese, shredded
1 heaping handful cilantro, finely chopped
Salt and pepper, to taste
Crunchy onions or vegan bacon bits, for topping
In a large pan, saute the tofu, garlic, onions for about 1 minute over medium heat.
Add in the beans, tomato, spinach, cumin, turmeric and lime juice and mix in well.
Cook for about another minute, season with salt and pepper.
And in the cheese and cook for an additional 2-3 minutes for the flavors to marry well.
Add in the cilantro in the last 30 seconds of cooking.
Top with crunchy onions and/or vegan bacon bits and enjoy!