This is a sponsored post written by me on behalf of NUTRILITE®
The holidays are here and that means stress, over eating of sweets and other rich (and delicious) holiday
foods, travel, crazy schedules and a whole host of other holiday
nuttiness.
With everything going on, people to entertain and crowds to push through,
it can be really tough to get the rest and nutrition you need
to get you safely into the new year.
Our immune systems take a massive beating this time of year what with our routines and diets shaken up
in addition to the weather and the amount of germs we are subject to
when shopping and traveling.
It's tough to stick to your diet and workout schedule, try as we might.
However, a great way to ensure you are getting that
extra boost in both nutrients and energy is with proper supplementation.
NUTRILITE® is the perfect combatant to staying
above the weather over the holiday season and beyond. With their Supplement Recommender tool,
you are able to find the right supplements to fit
your specific health, diet and lifestyle needs.
They have everything for everyone from kids to seniors, vegetarians to gluten free,
men, women and all sorts of active (or non-active) lifestyles!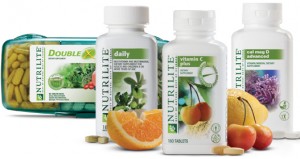 And this holiday season, one lucky grand prize winner  of a Rafflecopter giveaway will be randomly selected to receive a
MyPack Supplement Pack!
This prize is valued at $800.00 and includes men's and women's pack, perfect pack, heart health, immunity health, bone health and healthy aging supplements.
The giveaway will run from December 2 at midnight EST to December 9 at midnight EST.
Be sure to visit the Rafflecopter giveaway for rules, information and to enter for your chance to win!
Good luck and Healthy Holidays!!
This is a sponsored post written by me on behalf of NUTRILITE®.
Take charge of your health and get your Supplement Recommender Results here: Amway.com/SupplementRecommender.