*This is a sponsored post written by me on behalf of Burst Media for Special K
Well, it's that time of year where we say goodbye to the old year and hello to the new one ahead. With it comes mixed emotions as well as the pressure of starting fresh, resolutions and new beginnings. All of which can be stressful but the most prominent resolution that causes the most anxiety is the weight loss resolution.
Everyone begins the new year with that hope that this is the year they will get into their dream shape, work out more, eat better, etc. And by February the stress and frustration has set in and so goes the cycle as it does every year. And as the goals continue to not be met, so increases the topic that has so many women rule their lives by, Fat Talk. Myself included! This Healthy Voyager was set on her path to wellness because of weight issues in college and despite what it seems, it's still a daily struggle. No matter how healthy I eat, think, etc, the "Fat Talk" still happens in the recesses of my mind. And I and vowing to do my best to end it, or at least decrease it, this new year!
As seen in the infographic below, 93% of women admit to engaging in Fat Talk. The oh so damaging conversation amongst friends, family and our own inner dialogue that drives us batty. We focus so much on the clothes we don't fit in, the supermodel body we don't have and engage in unhealthy diets and chatter that hurt us even more than the extra pounds.
This year, perhaps the resolution should be to be healthy instead of that unattainable goal of having a Hollywood starlet's body. And being healthy includes doing away with the Fat Talk. Engaging in more positive dialogues about our bodies can only beget more positive outcomes both psychologically as well as physically. Focusing on how we feel and being holistically healthy will create harmony and balance and actually, help you reach those goals faster, happier and healthier. This year, it's important to Fight Fat Talk (#FightFatTalk)
Check out these crazy stats on how Fat Talk has permeated our lives: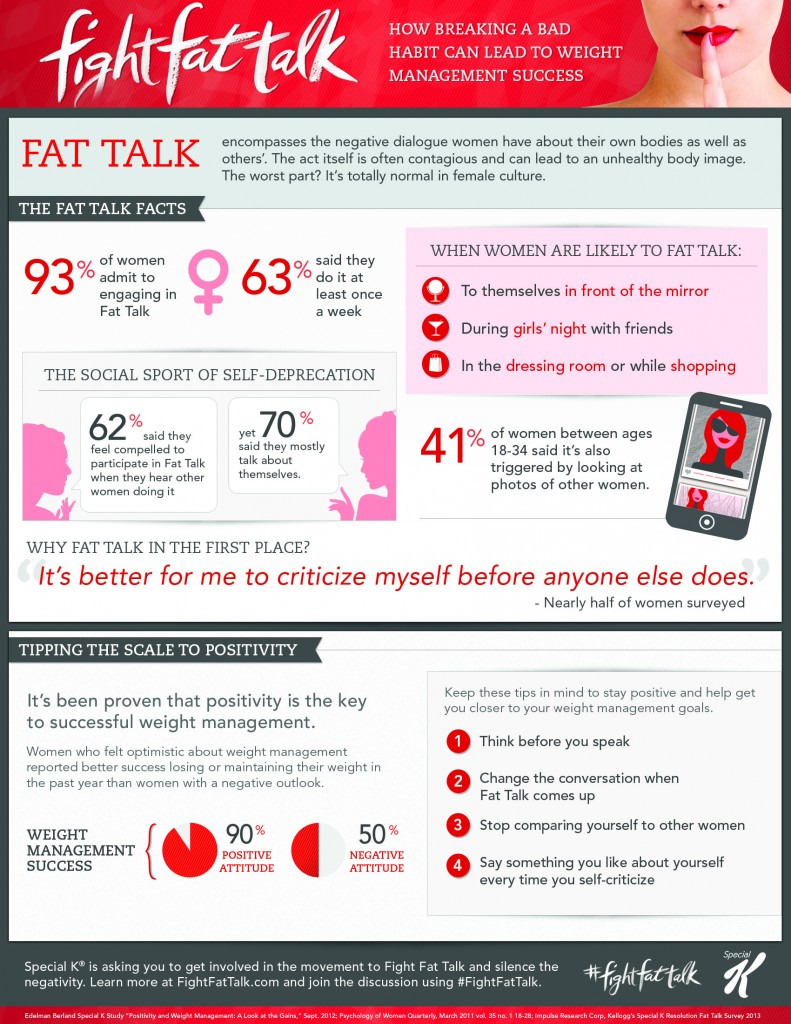 As women strive to get back on track this New Year, Special K has partnered with world-renowned supermodel and actress Tyra Banks to help shift the weight management conversation to a more positive one. Special K® has shown that positivity is important to weight management success unflattering photo or shopping for jeans, these negative comments women make about their own bodies and others are a destructive and significant barrier to weight-management success. "I know firsthand how much criticizing your body negatively affects self-esteem, but as a role model, I try to maintain a positive attitude and healthy approach to managing my weight," says Banks. "That's why I'm excited to partner with Special K to help empower women to not only feel confident about their bodies, but also to remove those negative thoughts and show them how to employ tips and tricks to make their least liked physical attributes look but, unfortunately, 93 Fat Talk is contagious – and it's weighing women down.
Whether sparked by an As a partner to women along their weight management journey, Special K offers many delicious, guilt-free products, including snack and breakfast options that provide protein and fiber. Women can also visit www.FightFatTalk.com to help SHHHHut down Fat Talk (#FightFatTalk). Fat Talk is so embedded in everyday conversations that it has become a barrier to managing weight. According to a recent survey, nearly half of women say that they engage in Fat Talk because they feel it's better to criticize themselves before others do so. Interestingly, 63% of women surveyed said when they notice themselves or their friends engaging in Fat Talk, they don't try to stop or change the conversation – and 62% of women say they feel compelled to engage in Fat Talk about themselves when they hear other women doing so.
To help women with their weight management journey this New Year, Special K offers a variety of delicious food options and is inviting them to participate in the Special K Challenge, an easy, effective way for women to kick-start their weight-management plan in 2014. For more information about the Special K Challenge, visit www.SpecialK.com.
*This is a sponsored post written by me on behalf of Burst Media for Special K