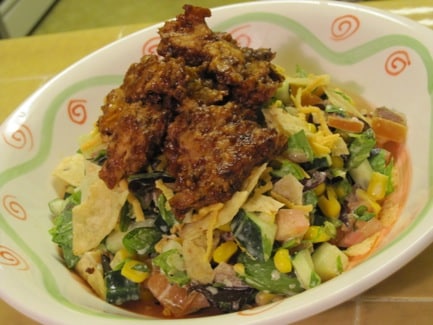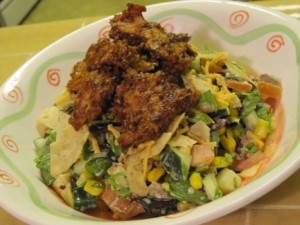 Combining 2 summer faves, barbecue and salad, in one yummy dish!  Great for a quick dinner or even to bring as your potluck dish for a summer soiree, omnivores and herbivores alike will gobble up this salad and ask for seconds! People who love reading about and cooking healthy foods often enjoy taking
cooking and nutrition courses. Guide to Online Schools is a resource with more information
2 vegan chicken cutlets (such as Gardein) (use vegan baked beans or grilled tofu for gluten free option)
1 head red leaf lettuce, rinsed and torn
1 head green leaf lettuce  (like romaine), rinsed and torn
1 fresh tomato, chopped
1 medium cucumber, finely chopped
1 bunch cilantro, chopped
1 (15.25 ounce) can whole kernel corn, drained
1 (15 ounce) can black beans, drained
1 (2.8 ounce) can French fried onions or 1/2 cup crushed tortilla chips
1/2 cup vegan ranch dressing (below)
1/2 cup barbeque sauce
Grill or pan sear the vegan chicken until cooked through. Remove from heat, cool, and slice.
In a large bowl, mix the red leaf lettuce, green leaf lettuce, tomato, cucumber, cilantro, corn, and black beans. Top with the grilled chicken slices and fried onions.
In a small bowl, mix the Ranch dressing and barbeque sauce. Serve on the side as a dipping sauce, or toss with the salad to coat.
Ranch Dressing
1/2 cup vegan mayonnaise
1/2 cup plain vegan vanilla yogurt
1/4 cup vegan buttermilk (1 cup plain soy milk with 1 teaspoon of apple cider or coconut water vinegar, set aside to curdle for at least 15 minutes)
2 tablespoons chopped celery leaves
1 1/2 tablespoon chopped fresh dill
1 1/2 tablespoon diced onion (white or green)
1 clove garlic, diced
1 teaspoon dijon mustard
2 teaspoon lemon juice
salt and pepper to taste
Place all ingredients in a blender and blend until smooth.