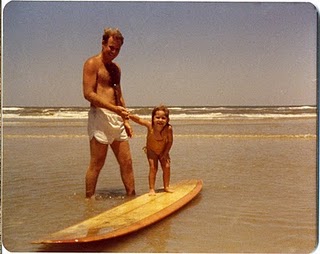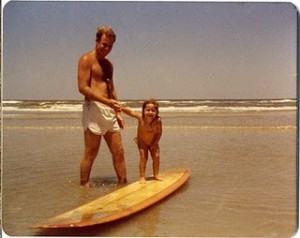 Nothing makes my dad happier than a day at the beach, surfing and just enjoying the sun and ocean. Luckily, Father's Day falls in the summer so it's a great time of year to get outdoors and spend some quality time with the dads in your life (fathers, hubbies, brothers and buddies).  Nothing is more appropriate for a fun filled Father's Day then some outdoor dining and adventurous activities.  You can get your dad any number of ties and gadgets but giving him an experience and memories beats any wrapped gift ; ) So,  I've whipped up a few dad approved recipes as well as some ideas for activities that might put a smile on his face this year!
First of all, think about what kind of guy your dad is.
Water sports enthusiast – If so, then consider Fathers Day gift ideas such as a jet boat ride, a day of scuba driving, surfing or a trip down the whitewater in a kayak.
Speed guy – If that's the case then the way you should go is a day spent driving a rally car or an experience in a unique V8 supercar. If, on the other hand, dad is the type who likes the sky, then consider Fathers Day gifts like paragliding, hot air ballooning or sky diving.
Outdoorsman – How about a family hike or camping trip?
Sports freak – Get tickets to his favorite team's game or take him out to play. Shoot some hoops, play some golf, whatever his sports persuasion, gather the family and do it together
Dare devil – Try rappelling, zip lining or spelunking
If you want to top off a great day of fun or are just thinking of taking it easy that day, either way, cook up a storm of love that dad won't soon forget!


Mediterannean Medley Potato Salad
1  pound whole tiny new potatoes
1/3  cup veganaise
2  tablespoons lemon juice
1  clove garlic, minced
1/4  teaspoon coarsely ground black pepper
1/4  cup pitted kalamata olives, coarsely chopped
2  tablespoons capers, drained
2  tablespoons finely chopped green onion
1/2  of a small red onion, sliced and separated into rings
Place potatoes in a medium saucepan; add water to cover and, if desired, 1/4 teaspoon salt. Bring to boiling; reduce heat. Simmer, covered, for 15 to 20 minutes or until just tender. Drain well. Cool slightly. Cut potatoes into quarters and place in a large bowl.
Meanwhile, for dressing, in a small bowl combine veganaise, lemon juice, garlic, and pepper. Stir in olives, capers, and green onion. Pour dressing over potatoes. Add onion. Toss gently to mix.
Cover and chill for at least 4 hours or up to 24 hours, stirring salad occasionally. Makes 6 side-dish servings.
Green Kabobs
8  green onions
12  baby green pattypan squash
12  baby zucchini
1  cup sugar snap pea pods
1/3  cup olive oil
3  tablespoons red wine vinegar
3  tablespoons snipped fresh oregano or 1-1/2 teaspoons dried oregano, crushed
1/4  teaspoon salt
1/4  teaspoons pepper
Rinse and trim vegetables. Cut a 3-inch portion from the bottom of 6 of the green onions. Save remaining onion tops for another use. Place pattypan squash, zucchini, pea pods, and 3-inch green onion portions in a plastic bag set in a shallow dish.
Finely chop remaining 2 green onions. For marinade, in a screw-top jar combine olive oil, vinegar, finely chopped green onion, oregano, salt, and pepper. Cover and shake well. Pour marinade over vegetables in the bag. Close bag. Marinate vegetables in the refrigerator for at least 1 hour or up to 24 hours, turning bag occasionally.
Drain vegetables, reserving marinade. On 6 long bamboo* or metal skewers, poke vegetables in alternating order. Cook vegetables on the rack of an uncovered grill directly over medium coals for 8 to 10 minutes or until browned and tender, turning and brushing with reserved marinade occasionally. Makes 6 side-dish servings.
*Note: If using bamboo skewers, keep them from catching fire or charring by soaking them in water for at least 30 minutes before use.


Best BBQ Veggie Burger
4 tablespoons hickory barbecue sauce
1 tablespoon molasses
1 (15 ounce) can black beans, drained
2 cups cooked brown rice
1 tablespoon oat bran
2 tablespoons onions, finely chopped
1 tablespoon finely chopped canned beets
1 teaspoon beet juice
1 teaspoon chili powder
1/4 teaspoon ground cumin
1/4 teaspoon black pepper
1 teaspoon kosher salt
1 tablespoon pickled jalapeno pepper, chopped
1 egg replacer
2 teaspoons olive oil
Vegan cheese of your choice
Stir together barbecue sauce and molasses. Set aside.  In a large bowl, mash beans. Stir in 3 tablespoons of the barbecue mixture (reserving remaining for brushing) and remaining ingredients — rice through egg replacer. Form into four 6 oz patties.
Heat olive oil in a cast iron or non-stick skillet over medium. Grill burgers for 2 minutes on one side. Turn and brush with remaining barbecue/molasses mixture. Top with vegan cheese and grill for another 2 minutes or until cheese is melted. Serve with lettuce, tomatoes, pickles, onions and mustard on a bun which has been grilled in vegan butter.


Peanut Brittle-y Bread Pudding
2-1/4  cups soymilk
4  egg replacers
1/2  cup granulated sugar
1  tablespoon vanilla
1  teaspoon finely shredded orange peel
1/2  teaspoon ground cinnamon
4  cups dry French, Italian, or sourdough bread cubes*
1  cup coarsely chopped  vegan peanut brittle
1/3  cup vegan butter
1/3  cup packed brown sugar
2  medium bananas, sliced
1/8  teaspoon ground cinnamon
1  tablespoon rum or orange juice
1  tablespoon banana liqueur, creme de cacao, or orange juice
vegan vanilla ice cream (optional)
Preheat oven to 350 degrees F. In a bowl beat together milk, egg replacer, granulated sugar, vanilla, orange peel, and cinnamon. Place bread cubes in an ungreased 2-quart square baking dish. Pour mixture evenly over bread cubes. Sprinkle with chopped peanut brittle.
Bake for 40 to 45 minutes or until a knife inserted in center comes out clean. Cool slightly. Serve warm with Bananas Foster Sauce (below)and vanilla ice cream, if desired. Makes 8 servings with 3 tablespoons sauce.
Bananas Foster Sauce: In a large skillet melt vegan butter over medium heat. Stir in brown sugar until melted. Add bananas. Cook and gently stir over medium heat about 1 minute or until heated through. Remove from heat. Stir in cinnamon, rum or orange juice, and banana liqueur, creme de cacao, or orange juice. Serve immediately with bread pudding. Makes 1-1/2 cups sauce.
*To dry bread cubes: Place bread cubes in a large pan and bake in a 350 degree F. oven for 10 to 15 minutes or until dry but not brown, stirring twice.
Have a wonderful yummy and adventurous father's day!! xoxo