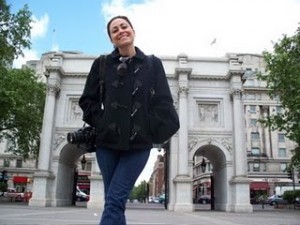 I have only scratched the surface here in the city across the pond and I hope to come back soon so that I can cover some more ground. I could be here for quite some time and never eat at the same place twice, although I would love to ; ) From veggie burgers to veggie sushi, London has been quite the friend to this healthy voyager!
Having to take the tube and trains to many of my destinations, I had to pass through some of the major stations such as St. Pancras. In all of these major stations, it feels as though you are waking through a mall and it it you find a veritable gourmet food court. From Le Pain Quotidien (one of my favorite LA haunts),the Chop'd cafe and the local Mark & Spencer markets, there is no shortage of healthy choices to make before a long trip into or out of town. See a list or eateries and retailers on the St. Pancras Int'l Station website as well as info on the national rail stations.
Another health minded fast food locale is the ever growing Pret a Manger. Having now landed in New York, my first taste of the convenience based grubbery was in good old London. We were in a rush so this place was just the ticket with fresh, pre-packed sandwiches (like my yummalicious falafel, spinach and tomato sandwich on wheat) and alternatives to the regular empty calorie sides. I grabbed a fresh juice and parsnip crisps to go with my portable lunch. They print health tips and their healthy mission statement on all of their packaging, pretty cool; ) Hit Pret up in the UK and now in NYC!
Yo! Sushi was hands down one of the most conceptually fun places I have ever eaten. It's part sushi bar, part Jetsons and all lip smackingly good. There is a conveyor belt that goes around the entire perimeter of the sushi bar where they make their fresh food and set it on for you to grab as you wish. The colors of the bowls tell you the price point so you can eat as much or as little as you want and keep score ; ) They have an extensive menu with even more tantalizing treats and with that, they have calculated every possible bit of information on each of their dishes from calories to gluten content. This way the pickiest of eaters can eat without dealing with that new server that doesn't know which way is up let alone the ingredients in a a given dish. I hope to see one of these sprout up in LA soon but until then, check them out at Yo! Sushi.
On my last evening in town, my pals were in search of a Thai place that once we found it, the location was no longer there. So after quite some time of walking around aimlessly I was distracted by a cute character in neon. It was Topo Gigio, my favorite childhood European mouse! I then realized it was an Italian restaurant of the same name and despite my friends' protests, we got a table inside. I was tickled that the whole place was full of Topo Gigio dolls and drawings. And the menu surprised as well as my veggie counterpart and I each had a healthy serving of gnocchi and shared a pretty darn good artichoke appetizer. Needless to say, Topo Giggio pleased the kid and the grown up in me all at once ; )
Sadly, I had to head back home but I am more then stoked to get back to see good friends, perhaps catch a race or 2 and eat my way through the island once again!