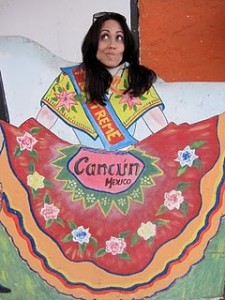 So I've already raved about the healthy yet delicious options I found in Cancun. But as promised, there is more!!  And this time, I'll be chatting dining out as well as dining on the adventure tours. Let's roll!
In the La Isla Shopping complex, neat The Taco Grill, you will find Mr. Papas. A potato house and piano bar, you'll eat well and be entertained without a doubt. Very accommodating to special diets seeing as how you can customize your potato any way you like, Mr. Papas is a fun night out. Even if potatoes aren't' your fave, their expansive international menu is bound to have something for you.
In the main party zone, there are tons of American chain places like Chili's, Rainforest Cafe & Hard Rock Cafe to name a few. You can absolutely find healthy options there if you're not willing to eat local cuisine and I've covered these joints in a previous post of chain restaurant dining.  But, if you are willing to try something new but want to stay in the thick of the action, try Mex-Treme. They got live music and dancing so you can get your preliminary groove on while dining.They can hook you up with plenty of vegetarian options as well as some fun beverages to get your party started!
Hacienda Sisal Mexican Grill is not only a grand looking place,  it boasts a super neat dining and entertainment club whose setting rivals that of Disney World. The faux, outdoor dining area is a large courtyard complete with the "sets" of pueblo apartments surrounding the tables and the large stage. Featuring live entertainment, dancing, music and local folk artists, Hacienda Sisal feels like you're really getting a slice of Mexican culture along with your guac ; )  The food isn't to shabby either!  I loved my sizzling veggie fajitas and yeas, of course, a large helping of fresh, made at my table guacamole.
The coolest thing to do in the Yucatan aside from eating, drinking and lounging, is the tours to the Mayan ruins and villages.  We especially love d our All-Tour-Native Tours to Coba. The Maya Encounter tour to Coba is the only ruin in the Yucatan that you are still allowed to climb and on this tour you get to zip line, rappel and swim in an underground, freshwater lake called a cenote (sen-oh-teh).  Since you are on an all day excursion, they include lunch at a traditional Mayan village. A lunch I was afraid of so I packed lots of vegan bars. But, I was pleasantly surprise with the wide variety of veggie options that were made super fresh. A hearty veggie soup, veggie beans, rice, salsa a guac. That's all I needed to keep me going through my journey into the past ; )
A can't miss is the Chichen-Itza Tour. One of the new 7 wonders of the world, Chichen-Itza is one of the most recognized Mayan ruin villages around.  Unfortunately you can climb any of the structures but regardless, it's impressive. The ball field and main pyramid are breathtaking and the stories behind them are mega fascinating.  On most of the tours they take you to a super neat cenote near by to swim and they too provide lunch. A large buffest full of veggies, salads, beans and other goodies, you won't go hungry.
That's a wrap on Cancun but not of the state of Quintana Roo! Join me when I summarize the best of Playa Del Carmen!!