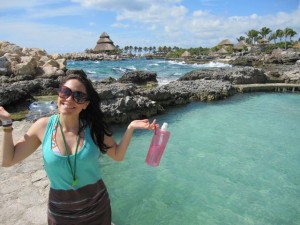 Just south of Cancun, you will find Playa Del Carmen. Less American touristy and more laid back, the beaches and sites of PDC are nothing short of spectacular. We visited the area on numerous day trips and I think our next trip to the area, we'll be choosing accommodations in Playa Del Carmen.
Hands down, my most favorite day was the day we visited Xcaret. Despite it's "theme parky" style, the grounds are just breathtaking. The glistening crystal water, the iguanas, dolphins and parrots as well as all the colorful Mexican culture all over the park is enough to cancel your plans and stay here for days. Xcaret is located right on the ocean so the swimming pools are actually beaches and inlets. You can snorkel and hang out with gorgeous marine life as well as swim through underground & cavern rivers. In addition to all the beautiful water activities, Xcaret boasts delicious food all over the park. The buffets are perfect for special diets to pick and choose from a variety of fresh fruit, salads and other yummy local fare. But even more outstanding is the evening entertainment. As the sun sets, park visitors are ushered through an Indian Jones type walk way decorated by performers in historic Mayan & Mexican garb. The arena surrounds a huge floor where hundreds of performers put on a show worthy of an Olympic opening ceremony. The show follows the history of the Mayans and goes all the way through to Modern Mexico. A live Mayan ball game is played, singers and dancers of all ages and dare devil performances, the night time show at Xcaret is not to be missed. You can order a fine dining meal at the show or do what I did and pick up some veggie fajitas at one of the counters just before curtain call. If there is 1 place to visit when you're in Playa Del Carmen/Cancun, it's Xcaret!
For a romantic tropical, beach front meal, you gotta hit up Fusion Bar & Grill. The Fusion hotel bar & grill is the type of beach eatery you see in movies. With tables right on the sand overlooking the gorgeous gulf water, day or night, a meal here is like a little piece of paradise.  And not only is the ambiance great, they are way veggie & special diet friendly.  Lots of veggie & healthy menu options, I had to go super Latino and chose the veggie plate of brown rice, black beans and grilled veggies. Mmmm, mmm good ; ) For a chilled out meal or for a drink & a show, The Fusion Hotel is the way to go.
Located in downtown PDC is Alux. A gourmet restaurant built in a cenote (cave), it's sure to be one of the coolest dining experiences you'll ever have. While the menu is mainly seafood, I was able to veganize a salad and follow that up with some rice and veggies. But don't let the lack of veggie options stop you because even popping in for a drink at Alux is worth the trip!
Last but not least to tell you about is Xel-Ha. Xel-Ha is similar to Xcaret in that it is an oceanside, natural water park but it definitely has some different stuff. While it doesn't have the night time extravaganza that Xcaret does, Xel-Ha is near Tulum, an ancient seaside Mayan city. The park is full of adventurous things to do on both land and sea and if you get the park & Tulum tour, it makes for a great day. Xel-Ha offer all-inclusive rates so you don't have to worry about your meals and is also Green Globe Certified, yay!
So that's a wrap on Cancun & Playa Del Carmen this time around. I hope to get back there soon!!