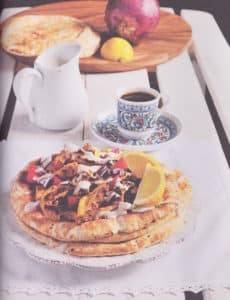 Lemony, "chickeny" goodness on bread. Mmmmm. I love the mixture of lemon and garlic along with the warm pita and yummy vegan chicken. Lunch anyone?

Shawarma
10 cloves garlic, chopped

2 lemons, juiced

1/2 cup olive oil

2 teaspoons curry powder

Salt and pepper, to taste

1 teaspoon turmeric

8 vegan chicken fillets

4 pieces pita bread

1 medium tomato, chopped

1 red onion, chopped

Shawarma Sauce

Shawarma Sauce

5 cloves garlic

1 to 1 1/2 cups tahini (depending on desired creaminess and taste)

2 cups cold water

1/2 to 3/4 cup lemon juice

Salt and pepper, to taste
To make the marinade for the chicken, whisk together the garlic, lemon juice, and oil in a medium bowl. Add curry powder, salt, pepper, and turmeric and whisk to combine. Add chicken and coat with marinade and allow to marinate overnight in the refrigerator.
Preheat a grill or grill pan to medium heat. Remove the chicken from marinade and grill for about 5 to 7 minutes on each side, until cooked through. Serve on warm pita and top with tomatoes, onions and Shawarma Sauce.
To make sauce: Add garlic to food processor or blender and chop. Add tahini and pulse to combine. On a low setting, slowly add cold water until frothy. Then add in lemon juice until the mixture has become creamy and season with salt and pepper.