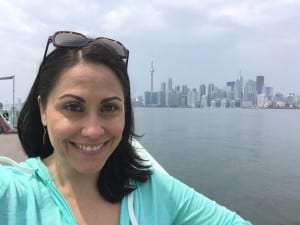 Toronto is an an incredible city with so much to offer travelers of all types. Be you an adventure junkie, a foodie, a history buff or just want a fun family getaway, they have it. A beautiful Canadian metropolis, you can't beat Toronto! For this post, I'm delving into where to stay and where to find fab vegan eats but stay tuned, as there is so much more Toronto coverage!
If you are thinking of visiting Toronto, nothing beats the Delta Hotel. With the best location in town, this new, modern, eco-friendly hotel stands directly in front of the way cool CN Tower with gorgeous views of Lake Ontario. On a good day, you can see the mist from Niagara Falls!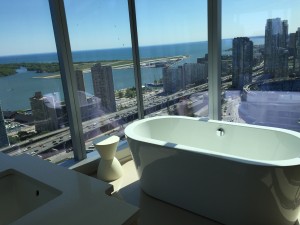 The Delta is chic, cool and everything you want in a city hotel. Terrific views, great amenities and services, good food (SOCO Kitchen and Bar) and awesome staff. Nothing beats the view I had from my bathroom, I've never sen anything like it! My meals were delicious as they offered soy lattes and vegan options no matter if it was breakfast, lunch or dinner. Walking distance to the CN Tower, Blue Jays Stadium, and the Steam Whistle Brewing Company, an on site whiskey bar (Char No. 5) makes it easy to enjoy a cocktail steps from your room, and on chilly days, in the warmth. I can't imagine a better place to stay in town.
I'm not sure I've pigged out more than I did at HogTown Vegan. My dining partner and I couldn't choose from all the vegany goodness to we ordered 2 appetizers, entrees, sides and dessert! From chick'n and waffles to mac n'cheese, yummy cocktails and more, HogTown is hipster vegan heaven and you must come hungry!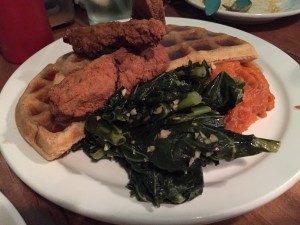 While I love Mediterranean food, I'm never that into having a full sit down dinner of it as I tend to like a falafel sandwich in the go. But after dining at Tabule, I changed my mind. Hands down, the best Mediterranean restaurant I've ever had the pleasure of dining at. Everything I had was incredible! Beautifully roasted cauliflower, homemade pita, incredibly flavorful hummus and more, I was floored by how much I loved this place and I want to eat there every day!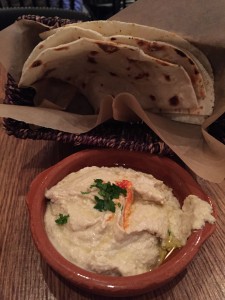 Located in a really cute neighborhood in Toronto, Vegetarian Haven is exactly that. Serving up beautiful Asian inspired cuisine, it's all vegan and all delicious! I decided I'd have their signature mushroom tofu in a clay pot (amazeballs!!) and saved room for a super sinful vegan ice cream brownie sundae! OMG!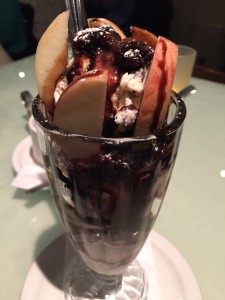 Up in Yorkville, you'll find Lola's Kitchen. A cool spot for brunch all the way to dinner, Lola's serves up cocktails and all sorts of yummies for all sorts of diners! I had a moscow mule, devoured their cauliflower fritters and thoroughly enjoyed their vegan quinoa risotto. Yum!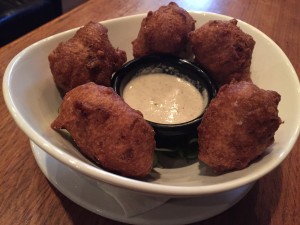 Thats not all for Toronto, there is still so much more to come! Stay tuned!
PS – Thanks sooo much to the Tourism Toronto for making this trip possible and incredible!