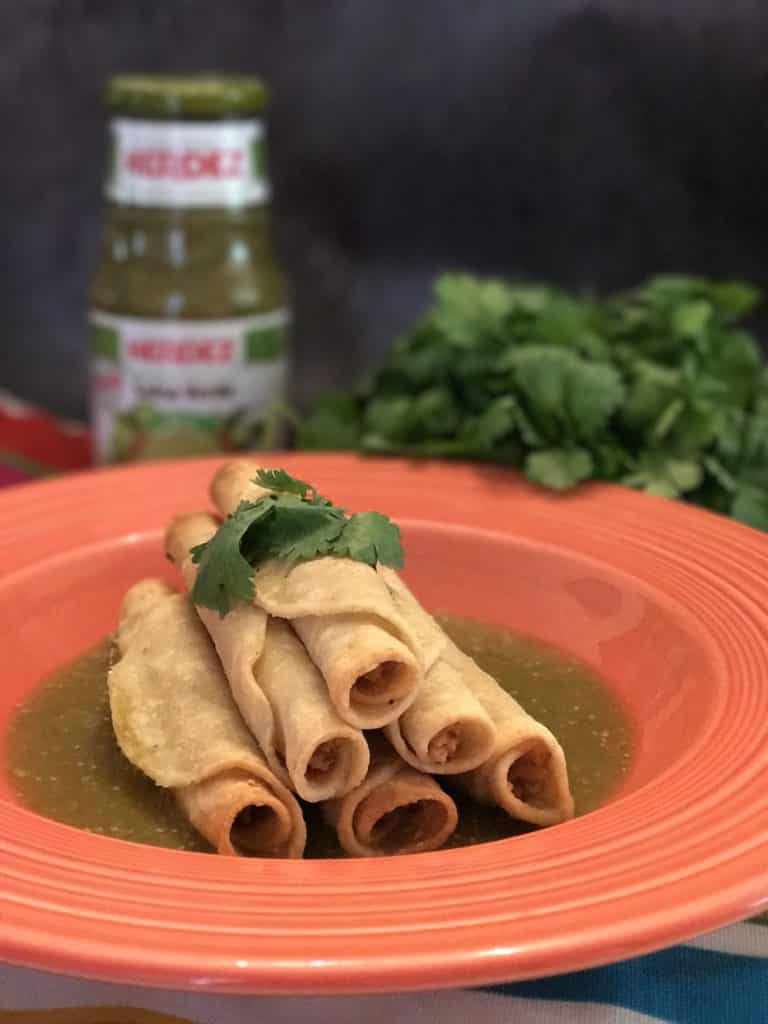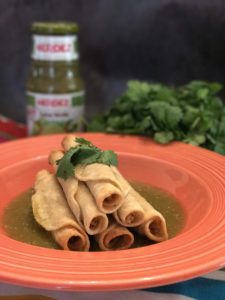 It's sweet potato season, orange hues match the colors and flavors of the season. From pies to main dishes, the fall and winter holiday festivities are a wonderful time to play in the kitchen with family and friends.
Along with my friends at Herdez, this holiday season we're celebrating authentic family favorites with a healthy twist! That's why I'm sharing my easy and tasty vegan Sweet Potato Taquitos recipe with you!
Herdez is Mexico's #1 Salsa Brand! An import to the US straight from Mexico, Herdez brings authentic Mexican flavors right to your dinner table. Made from fresh, simple, quality ingredients, Herdez salsas represent the heart and soul of Mexican cuisine. With their delicious salsa options, Herdez is committed to bringing you authentic flavors of Mexico!
Here are their top 3 salsa varieties:
HERDEZ® Salsa Casera, serve as a crowd-pleasing dip or as the secret ingredient in your favorite Mexican recipes, is the most popular "homemade" salsa. Featuring just five fresh ingredients—tomatoes, onions, serrano peppers, salt and cilantro.
HERDEZ® Salsa Verde,

 

a unique and fruity Salsa Verde is made with just five simple ingredients: freshly harvested green tomatillos, savory onions, spicy serrano peppers, salt and fresh cilantro.
HERDEZ® Guacamole Salsa, t

he only shelf stable guacamole salsa available for when you need the extra kick in your guacamole!
And now, for my vegan Sweet Potato Taquitos recipe!
Sweet Potato Taquitos
For Filling
2 cups coarsely mashed sweet potatoes, about 2 large cooked sweet potatoes

2 garlic cloves, minced

1 1/2 teaspoons smoked paprika

1 teaspoon onion powder

1/4 teaspoon cumin

Salt and pepper, to taste
For Flautas
12 corn tortillas

Herdez Salsa Verde
Preheat oven to 450 degrees.
In a medium sized bowl, mix all the filling ingredients together until well incorporated.
Lay out the corn tortillas and spoon a heaping spoonful into the center of each. Spread around and add more if you like. Roll them into tight cigar shapes. Brush each roll with olive oil to help broken and rip up nicely.
Place rolled, filled and brushed tortillas, seam side down, into a greased casserole dish or lasagna pan, in a tight even line, filling the pan from side to side.
Bake for 5 minutes, until golden and crispy. Serve, top with Herdez Salsa Verde and enjoy!
For more tasty traditional recipes perfect for all your holiday festivities, be sure to visit www.herdeztraditions.com 
And as a bonus, how about an awesome sweepstakes!
Have you always wanted to tour the culinary regions of Mexico? NOW is your chance! Herdez is giving away a trip to Mexico that includes airfare, ground travel and accommodations! S
All you have to do is share a picture of your favorite HERDEZ® Brand-inspired family dish on Facebook or Instagram, tag @HerdezTraditions, use #HERDEZCelebratesCOCO and #Sweepstakes and you're in the running for a chance to win a trip to Mexico for two!
For more information click here www.HerdezTraditions.com