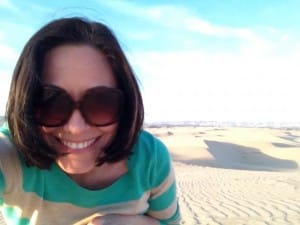 A secret gem on the California coast is Pismo Beach. About halfway between Los Angeles and  San Francisco, Pismo is a lovely central coast beach town that boasts some pretty rad sand dunes. Along with the surf and the dunes, you'll also find some delicious dishes too!
Food trucks go hand in hand when it comes to the beach and Kunfusion Food Truck is the perfect one for a veg-friendly meal! Serving Asian fusion cuisine, they serve up tasty bowls, tacos and other treats. My personal fave are the tempeh fried rice and any of the Kung Fu bowls as they can all be veggified by subbing tempeh or tofu! Yum!
Another awesome mobile eatery, that also has a permanent location, is Tio Alberto's vegetarian mexican food and juice bar! Wahoo! With tons of gluten free and vegan options, you really can't go wrong at Tio's. However, I highly recommend the vegan taquitos and sopes as well as their agua frescas!
For good coffee and yummers breakfast, check out Mon Ami. Offering crepes, paninis, awesome coffee drinks and other treats, it's a great place to relax with your travel buddies, vegan or not. Perfect for gluten free and vegan diners as well as omnivores! Eat a crepe in house and take a gluten free vegan cookie to go!
If you're looking for a yummy sandwich to take to the beach, stop by Chipwrecked! Easily veganizable 'wiches and salads, it's a cute place with a cute name and fun options. I veganized the Port Banes sandwich which features fried plantains, yep!
Now for a delicious dinner after a long day in the sun, pop over to Bunn Thai Bistro. As with most thai joints, vegan and gluten free is pretty easy and Bunn is no different. Just be sure to make sure your dish is made without fish sauce. I gotta say the strawberry fresh roll made with tofu is killer ; )
More from the California central coast next week!