*Recipe from The Healthy Voyager's Global Kitchen Cookbook.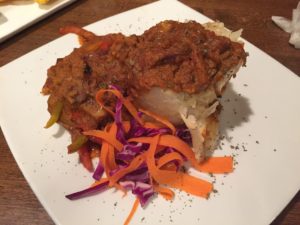 Sure, the name may be chuckle inducing but this Caribbean comfort food will be on your mind long after you've taken your last bite. The salty and sweet combination will win you over for sure!
3 green plantains

2 teaspoon salt, divided

4 cups water

3 garlic cloves

1 tablespoon olive oil

1 cup vegan bacon (tempeh bacon – you may also slice & fry vegan ham slices), minced

Coconut oil, for frying (or preferred high heat oil)

2 cups vegetable broth, hot

Cilantro, for garnish

Lime wedges, for garnish

Peel plantains and cut into 1-inch slices. Soak for about 15 minutes in salt and water and drain. Heat frying oil in a deep frying pan or fryer to 350ºF. Add plantain slices and fry for 15 minutes but do not brown. Drain on paper towel lined plate.
Crush garlic cloves in a bowl (or with mortar and pestle) and sprinkle with salt, add olive oil to the mixture and keep pounding to blend and smash.
Crush the fried plantains slices and the bacon. Add the garlic and olive oil mixture and keep pounding.  Then spoon the mixture and shape into 2-inch balls. Place balls in serving bowls and pour vegetable broth over them.  Garnish with chopped cilantro and a lime wedge. Nice with avocado slices too!