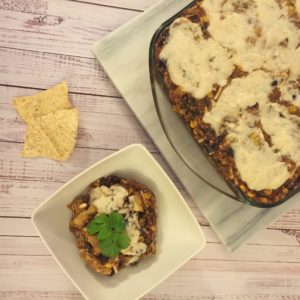 I love cooking with quinoa from casseroles to taco fillings, crust to breads, it's healthy, protein packed and versatile. And one of the yummiest ways is to make a tasty Mexican style dish that will last for several meals and get better with every bite! Here's my super yummy vegan Mexican Quinoa Casserole Recipe!
3 cups cooked quinoa (cook in vegetable broth for richer flavor)
1 tablespoon olive oil
1 white or yellow onion, diced
3 cloves garlic, minced
1 chipotle pepper in adobo, seeded and diced (optional)
2 medium sweet potatoes, skinned, diced and cooked
1 (15 oz) can fire roasted diced tomatoes, drained
1 cup corn kernels
Juice of 1 lime
1 teaspoon ground cumin
1 tablespoon chili powder
1/2 cup chopped cilantro
Salt and pepper, to taste
2 (15 oz) cans black beans, drained and rinsed
2 cups red enchilada or taco sauce
2 cups shredded vegan cheese
Preheat the oven to 350 degrees F. Grease a 9×13 baking dish with cooking spray and set aside.
In a large skillet, heat the tablespoon of olive oil over medium-high heat. Add the onion, garlic, and chipotle. Sauté until softened, about 5 minutes. Add in the sweet potatoes and corn. Cook for about 3-4 minutes then add in the tomatoes. Stir well.
Add the lime juice, cumin, chili powder, and cilantro. Stir to combine. Season with salt and pepper, to taste.
In a large bowl, add the cooked quinoa and black beans. Add the sautéed vegetable mixture and stir to combine. Pour in the enchilada sauce and stir. Add 1/2 cup shredded cheese.
Pour the black bean and quinoa mixture into the prepared baking dish. Top with remaining shredded cheese. Cover the pan with foil. Bake for 20 minutes, then remove foil. Bake an additional 10 minutes, or until the cheese is melted and edges are bubbling. Remove from the oven, and let cool for 10 minutes.
Garnish with toppings like chopped green onions, avocado slices, vegan sour cream or broken tortilla chips if desired.