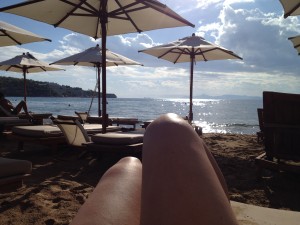 Just south of Athens, you'll find Vouliagmeni Beach. On the Agean sea, it's a waterfront town with chic beach clubs, great dining and plenty of sun! It's a great place to experience the Athens Riviera if you are short on time and can't hit up the islands.
Beach clubs are the way to go when hangin' seaside in Greece. They are clean and have wonderful amenities like cabanas, chairs and umbrellas, towels as well as food and beverage service.  Some even have fun water obstacle courses, paddleboarding and other water sports.
Astir Beach is my favorite in Vouliagmeni. With your entry fee you get everything you want for a chill day at the beach. It is cool, chic and super convenient to some great restaurants that line the bay.
A natural wonder and beautiful site that can't be missed is Lake Vouliagmeni. Known for its healing waters, this natural spring and its geological properties boast minerals that are said to help everything from skin problems to sciatica! A beautiful setting with great facilities such as cabanas, an on site restaurant for fresh eats and gorgeous scenery. A must visit!
Located in the Margi Hotel, you'll find Malabar. Poolside dining on stylish sofas or cabana lounge beds, the menu is fresh and very Mediterranean. The chef is very accommodating to special diets as it's simple with their yummy pastas and risottos. Talk about a sexy meal, it's all about Malabar!
Mythos is a traditional seaside Greek restaurant located in the Divani hotel. With beautiful views of the Vouliagmeni shore, everyone in your travel group will enjoy this lovely locale. For veggies like me, you can enjoy Greek faves like dolmas and white bean puree (like hummus) with pita as well as a veganized Greek Salad. And don't forget to have some Ozu!
A great place, also on the shore line, is En Plo. One of the many restaurant/bar/club venues in this beach town, En Plo is airy and stylish. And their veggie sandwich is delicious! Lots of surprising grilled veggies, I was stoked it wasn't a janky patty! It went well with some chips and a cocktail!
Well, for now I'm leaving Greece but don't fret, next week I'm off to Rome!