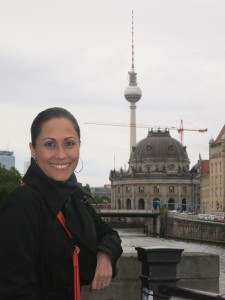 So last week I covered the great historic points of interest as well as just a few of my vegan dining faves. This week, I wanted  tell you about some hip places to visit, shop and yes, dine! So let's get going!
Let's start with Vegan Avenue! Yes, you heard right! Home to a number of vegan businesses, what's been coined as Vegan Avenue is a strip of cool places to shop and dine for animal free products in the Prenzlauer neighborhood. Last week I chatted about Veganz grocery store and Goodies cafe. They are the cornerstone of vegan avenue so make sure to stop in for some yumminess and food to stock up on afterward. Then, hit up  Avesu, a fully vegan shoe store! Shop for cool threads at Dear Goods and Umasan. The  go back and eat some more at Goodies!
Now, one of the coolest places I've ever been to is the stretch of Revaler Strasse in East Berlin. In what seems to be an abandoned industrial area, hipsters and all the cool young kids of Berlin have transformed the area into a real mecca for fun and creativity. You will find everything from art galleries and dance clubs to a rock climbing park and rad indoor skate park. And amongst all the coolness and graffiti, you will also find neat places to dine, including Emma Pea, a hip shipping container that serves up great vegan and vegetarian food! I stopped in for a latte and a vegan scone before exploring!
Berlin's premiere raw restaurant is La Mano Verde. Hosting healthy, raw cooking classes and serving up fabulous raw vegan cuisine, Verde is the perfect place for a nice night out. And for non-raw foodistas, they have some great cooked dishes, namely their mushroom risotto, yummm!! Start your meal off with their raw ravioli appetizer and make room for wine and dessert and you'll leave there a happy camper!
On the newer side while in Berlin, Mio Matto is a divine gourmet vegan Italian eatery. Vegan Chef Bjorn Moschinski is at the helm and is rockin' this ship! For a romantic evening or a fun group party, Mio Matto has great drinks, wines and of course, incredible food. The menu changes seasonally and weekly so every time you go, you have a special experience. It's top notch vegan cuisine and a must visit in Berlin!
In need of some quick comfort food? Hit up Voner! Offering soups, salads and sandwiches, they are best known for their vegan doner and kebabs! And since you'll be doing a ton of walking around town, go ahead and indulge in their yumalicious fries!
Satisfy your sweet tooth at Cafe Vux! Rockin' good homemade baked goods, organic fair trade coffees and chocolates, it's the perfect place to take a load of, relax and enjoy. Mmmmmm! And if you're looking for a savory dish, they've got that too! Light sandwiches and soups, it's all delicious so make time for a couple of visits!
Stick around because we're sticking around Germany next week!