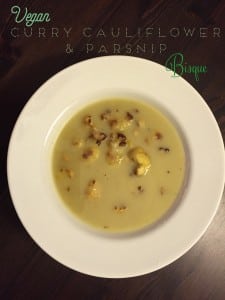 It's still chilly outside and nothing hits the spot like a tasty soup! I love the aromas and flavors of this soup as well as the creamy texture along with tasty bits of crunchy cauliflower. It's warming, delicious and full of antioxidants! I hope you enjoy this yummalicious curry cauliflower parsnip bisque as much as I do!
1 large head cauliflower
1-2 tablespoons olive oil, for drizzling
1 teaspoon curry powder
3 medium to large sized peeled parsnips or Japanese white sweet potatoes, coarsely chopped
1 sweet onion, diced
2 cloves garlic
6 cups vegetable broth
1/2 teaspoon white pepper
sea salt, to taste
First, preheat your oven to 400 °F and cut up your cauliflower into bite sized pieces. Sprinkle cauliflower lightly with curry powder. Place cauliflower onto ungreased cookie sheet and lightly drizzle with olive oil. Place in oven and let roast until golden brown on the tops and tender, but not mushy, about 20-30 minutes. Remove from oven and let cool.
In large stockpot, bring parsnip, onion, garlic and broth to a boil. Season with salt and white pepper and stir. Reduce heat and allow to remain at a constant simmer until sweet potatoes are tender.
Remove from heat and with an immersion/hand blender, blend soup until creamy. Add in cauliflower, season to taste, serve and enjoy!