*Recipe from The Healthy Voyager's Global Kitchen Cookbook.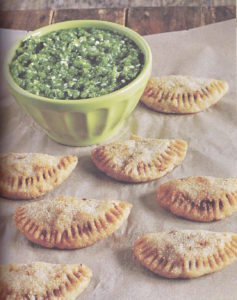 In honor of Colombian Independence Day on July 20th, I'm sharing a veganized version of my grandmother's famous empanadas! Empanadas are made in so many countries but each has it's own special taste and style. These are distinctly Colombian!
When I was a kid, I would stand right next to my grandmother, Bella, and grab them fresh out of the fryer when she would make these. I was so excited that I would burn my mouth every time because I couldn't wait for these savory little pockets to hit my taste buds. Enjoy my vegan Colombian empanadas recipe!
Dough
1 1/2 cups masarepa

1/2 tablespoon Sazon Goya or

homemade sazon

1/2 teaspoon salt

2 cups water

1 tablespoon vegetable oil

Gizo
2 cups white potatoes, peeled and diced

1 vegan chicken or vegetable bouillon cube

1 tablespoon olive oil

1/4 cup chopped white onions


1 cup cooked rice

1 cup chopped tomato

1/4 cup green onions, chopped

1 garlic clove, chopped


2 tablespoon fresh cilantro, chopped

1/2 teaspoon cumin

1/2 teaspoon salt

1/4 teaspoon black pepper


1 cup of vegan ground beef (optional)

Safflower oil, for frying (or preferred high heat oil)

Aji Sauce
2 small green peppers or 3 to 4 jalapenos, seeded & chopped (depends on if you want it

 

spicy or not)

Salt, to taste

1/4 cup vinegar

1/3 cup green onions, minced

1/3 cup white onion, minced

1/2 cup cilantro, chopped

1/4 or 1/2 teaspoon lime juice
Place the masarepa in a large bowl. Add the sazon and salt and stir to mix well. Add the water and oil and mix to form dough. Pat the dough into a ball and knead for 2 minutes or until smooth. You may want to keep your hands moist so that the dough doesn't stick. Cover with plastic and set aside for 20 minutes.
Meanwhile, to make the filling, cook the potatoes in a pot with enough water to cover them as well as the bouillon tablet for 20 to 25 minutes or until tender. Drain and gently mash the potatoes. Set aside.
Heat 1 tablespoon olive oil in a large skillet. Add the white onion and cook over medium-low heat stirring frequently, for 5 minutes. Add the rice, tomatoes, green onions, garlic, cilantro, cumin, salt and black pepper. Cook for about 15 minutes, then add in the veggie ground beef. Cook, breaking up the meat with a spoon, for 10 to 15 minutes or until the mixture is fairly dry. Transfer the meat & veggie mixture to the mashed potatoes bowl and mix well to combine.
Break small portions of the dough, about 1 1/2 tablespoons for each one, and form each portion into a ball by rolling between the palms of your hands. Place the balls of dough between two pieces of plastic wrap and roll each out to form a 2 1/2 to 3 1/2-inch circle. Be careful to not make them to thin as they will not hold up and will explode in the fryer. Remove the top plastic and place 1 tablespoon of the filling in the center of each. Using the plastic underneath, fold the dough over to enclose the filling, forming a half circle. Tightly seal the edges by crimping/pressing with a fork. They should look like a mini, sealed up tacos as they are meant to be finger foods.
Fill a large pot half way with oil (or use a deep fryer) and heat over medium heat to 360° F. Carefully place 3 or 4 empanadas at the time in the heated oil and fry for about 2 minutes until golden on all sides. Using a slotted spoon transfer the empanadas to a plate lined with paper towels. Serve with aji (recipe below) and lime wedges on the side.
To make the aji sauce: Marinate the peppers with salt and vinegar for 30 minutes. Pulse all ingredients in food processor until a juice begins to form and there is still a bit of pulp left in the sauce. Adjust any ingredients to taste. Set sauce aside for at least 30 minutes so that the flavors have time to ruminate.