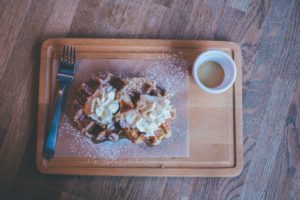 I love churros and I love waffles! So after seeing this on pinterest, I had to veganize it because duh, I can enjoy all that yumminess my way! So I played around with Chica Chocolatina's award winning recipe and veganized it for all my veggie, dairy free, egg free peeps! Buen provecho!
Waffles
1 teaspoon

salt

               

 

4 teaspoons baking powder

1 1/2 cups

warm almond, soy or coconut milk




1/3 cup

 vegan 

butter, melted

1 teaspoon

vanilla extract

1/4 teaspoon of cinnamon
Topping
1 cup of 

organic granulated

 sugar

1/2 cup cinnamon
1/2 cup of melted vegan butter
In a large bowl, mix together flour, salt, baking powder and sugar; set aside.  

Preheat waffle iron.

Combine your churro topping ingredients, pour onto a plate and set aside to dredge waffles in later. 

In a separate bowl, add the milk, butter, egg replacers and vanilla. Pour the milk mixture into the flour mixture, mixing until well incorporated.
Add in cinnamon and beat until blended. Set aside.
Melt your 1/2 cup of butter used to pour over waffles.
Spray your waffle iron with no stick cooking spray, then ladle the batter (about a 1/2 cup portions for small waffles, 1 cup for large) into a preheated waffle iron. Cook the waffles until golden and crisp.
Once fully cooked immediately pour melted butter on each side of the waffle and then dredge in your cinnamon/sugar churro mixture.
Top with optional topping like chocolate sauce or whipped cream or eat as is and enjoy!