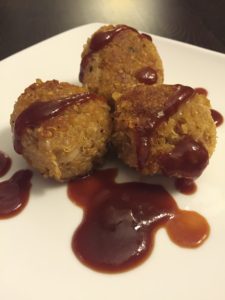 Quinoa is so much fun to play with from appetizers to salads to entrees and even desserts, it's such a versatile, protein packed seed. This time I experimented with some fun bbq flavors and adding a twist to a hush puppy or fritter to create my super tasty vegan bbq quinoa balls recipe! Enjoy as appetizers, burger patties, in salads or even grilled on a charcoal grill! Yum!
3 cups cooked quinoa (made in vegetable broth instead of water for richer flavor)
1 cauliflower head, steamed and drained
1 onion, finely diced
2 garlic cloves
1 cup breadcrumbs
1 cup bbq sauce, divided in half
2 tablespoons pickle relish
1/4 – 1/2 cup  flour
Salt and pepper, to taste
Preheat oven to 375°.
Place HALF the cauliflower, along with the garlic, into the food processor and pulse for 5-10 seconds.
Remove and pour cauliflower into a bowl before adding the second half of cauliflower to the food processor and repeating the process, removing and placing into the bowl.
Stir quinoa, breadcrumbs, relish, salt and pepper, 1/4 cup flour and half of the bbq sauce together with the cauliflower and then place the bowl in the refrigerator for 10-15 minutes, allowing everything to cool off a bit.
After 15 minutes, remove from refrigerator and, using your hands, form mixture into golf ball-sized meatballs, placing the meatballs directly onto a large skillet. If the mixture is too wet, add additional flour 1 tbsp at a time until reaching desired, sticky meatball consistency.
Drizzle 1 tbsp of olive oil on the skillet and then cook meatballs on medium-high heat, making sure to be careful when flipping them over, until they're golden brown on all sides.
Pour a small amount of the rest of the bbq sauce overtop of each meatball, making sure they all get covered with the sauce but you don't want them to be soaked with sauce or else they will get soggy.
Remove meatballs from skillet and place on a baking sheet; bake for approximately 15 minutes.
Remove from oven and enjoy!
*If you don't want to fry the balls, drizzle with a little oil, place on a  baking sheet and bake for 30-35 minutes until the balls are golden brown and firm on the outside, yet soft inside.