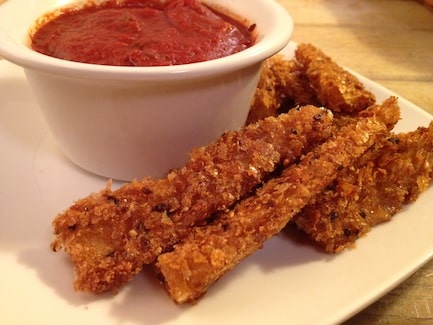 Who doesn't love fries? Well, we all do but we know that they are fattening and kinda bad for us. How about if you could healthy, delicious fries with none of the guilt? Try my golden zucchini baked fries! So tasty, you might eat the whole tray!
2-3 medium golden zucchini, sliced into thin, fry size slices, about 1/4 inch thick

1 cup gluten free all purpose flour
1 cup gluten free breadcrumbs
1-2 tablespoons Italian seasoning
2 tablespoons vegan parmesan
1 cup melted vegan butter or flax egg for oil free alternative
Marinara sauce, for serving
Place 3 small clean and shallow baking dishes or bowls side by side. Fill one with flour, another with butter or flax egg substitute and the last with bread crumbs.
Season the bread crumbs with Italian seasoning and vegan parmesan, mixing well.
Preheat the oven to 400 degrees Fahrenheit.
Dip each slice of zucchini first in the flour, then in the butter or flax egg mixture, and finally into the breadcrumbs, coating completely.
Place each coated slice onto a large baking sheet (18×13) lined with parchment paper or foil. Leave a small amount of space between each slice.
Place baking sheet into the oven and bake for 25-35 minutes (flipping every 10 minutes) until golden brown and crispy. Serve with marinara and enjoy!