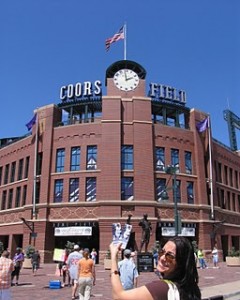 Denver, Colorado…Home of the Broncos and Rockies, the unsinkable Molly Brown's House, and some pretty good grub!!
In the video at the end of the post, we visited Watercourse Foods and chatted about it's other location, City O' City Pizza Bar and Coffee House. Both locations were excellent and really involve their loyal customers and the community in regards to the artwork and feel of both locations.
In addition to Watercourse, we visited the Vesta Dipping Grill in Lodo (the locals abbreviation for lower downtown). It was a perfect choice as I was the only veggie in the group but I was still able to enjoy a fantastic meal. They specialize in dishes that are to be dipped in a variety of sauces of your choosing and I got a rad grilled tofu with brown rice dealio. The trendy look of the restaurant and the cool bar really give the place a certain "je ne se quoi" and it is a definite must for everyone, healthy or not ; ) www.vestagrill.com
One more place to visit when you are in the mile high city is Mercury Cafe. They are an organic, "colorado cuisine" cafe that also boasts a bar and nightclub! They serve breakfast, lunch and dinner and party on through the evening with no gastronomic guilt! www.mercurycafe.com
The Healthy Voyager goes to Denver, CO! Join me as I find healthy, vegan, vegetarian, low fat, gluten free & other special diet friendly meals in the Mile High City. Lots of great food to eat & healthy activities to do! I visit Watercourse Foods & City O' City Pizzeria.