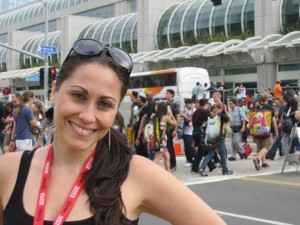 So I'm back with another San Diego round up as 1 post is just not enough. So many great places, too little time ; ) And the best part is that gastropubs are really stepping up in the way of veggie food options to go with a nice frosty mug of (enter adult drink of choice here)! So here we go!
One such place that has food plus alcoholic frolic is the Blind Lady Ale House.  Local beers and local, organic food, it might even be good for your health! I love that they have a ton of drink options that suit any taste and any of it goes well with their Stone Fruit Salad or soyrizo taco! Proud of everythig from their food to their choice in glassware, Blind Lady takes their business of drinking and eating seriously and that rocks!
Another great watering hole is Stone Brewing Co. Known for their specialty beers and now hawkers of a new book on the National Book &Beer tour, these guys ain't foolin' around with their bistro food and brews! A beautiful rustic chic locale, perfect for events and weddings, the fresh, local farm sourced food is elegantly paired with their wide selection of beers and other libations. Us vegheads can indulge in a tasty tofu stir fry while sampling a slew of frothy hops and malts! Make it a romantic evening of a just a nice getaway for lunch with friends and worry not my restricted diet travelers!
In the heart f San Diego State University country you'll find the Olive Oil Organic Cafe.  Natural, organic and lots of dishes fir for a green diner, Olive Oil is a great place for students as well as for tourists looking for a healthy bite. Boasting a menu of vegan and vegetarian sandwiches, it's nice to see that we've got choices and good ones to boot! I love their Green Goddess which is piled high with Portobello mushrooms, artichokes, avocado, spinach tomato, caramelized onions and vegan pesto aioli. MMMMMM!!!
I'm always down for some out of the ordinary ethnic cuisine and Pomegranate Russian Restaurant hits the spot for just that very thing! An authentic Russian-Georgian restaurant and cafe, this place had more then I cold have ever imagined a vegan could eat at a Russian locale. Vegetarian dishes are clearly marked on the menus (of which there are tons) and veganizing is no problem for the lovely folks at Pomegranate! Go for the Kavkaz beet salad and vegan Borscht!
Lastly but definitely not leasty is the Thai, Chinese, Vietnamese and Italian fusion joint, SipZ Fuzion Cafe. 100% vegetarian with a nice amount of vegan dishes, Sipz is pretty darn neat. A large menu complete with soups, salads, sides (spicy & non) as well as awesome entrees, it's hard to choose! Somehow I finally settled on the wonton soup and vegetarian Pho and it was OMG delish!!
For now, this is a wrap on San Diego but this relaxing bay side city is always evolving so I'll be checking back sooner then later! Stay tuned!