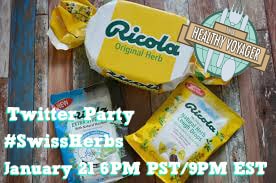 Join me and Ricola this Tuesday, January 21st at 6pm PST/9pm EST
for a fabulous #SwissHerbs Twitter Party
and you could win $500 for a "Well Day Off"!
This time of year, we are all trying to stay well and Ricola
is looking to help you do just that
with their all natural herbal throat drops!
Join in the conversation with me, Ricola and Mom It Forward
as we chat all natural healthy winter tips,
how to keep colds at bay
and pick a lucky winner for the Well Day Off!
For more info on Tuesday's Twitter Party, Click Here!
To win $500 & take a Well Day, tell Ricola what you'd do on a "Well Day" off work! Learn more here about the
giveaway, Click Here!
Additionally, for everyone participating in the Twitter Party, Mom It Forward
is also doing a giveaway for a $200 Gift Card!
You can find out more info on that by Clicking Here!
So be sure to bring your questions and join in the Twitter fun
with me @HealthyVoyager and @RicolaUSA
using the hashtags #SwissHerbs #GNO
on Tuesday, January 21 at 6pm PST/9pm EST
and you could walk away with
a Well Day Off!
Hope to see you there!