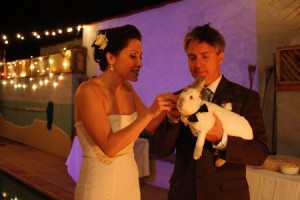 Ok, so having your fur baby in your bridal party may seem like torture but nothing is worse on your pets than the heat of the upcoming summer months. It is key to be prepared as well as observant of your pet's mood and behavior when it's blistering hot out. While most of it may seem obvious, it does bare repeating for the sake of your beloved animals ; )
NEVER leave an animal in your car unattended. Especially when the mercury is rising.  If you know you have lots of errands to run, leave your pet at home where he or she is comfy and has plenty of water. Even if you leave the windows cracked on a hot day, that is mega dangerous.  Oh, and don't think that you can get away with leaving the car running with the a/c full blast either. Pets who are left in hot cars even briefly can suffer from heat exhaustion, heat stroke, brain damage, and can even die. Don't think that just because you'll be gone "just a minute" that your pet will be safe while you're gone. Signs of heatstroke are panting, staring, anxious expression, refusal to obey commands, warm/dry skin, high fever, rapid heartbeat, vomiting, collapse. Contact your vet immediately if you see any of these in your pet.
Don't tote your pets around either. Ok, so you're not leaving them in the car, that's good.  But plopping them into your bag or making them walk around for hours in the sun while you shop, etc isn't so great either. Like children they will increasingly get more uncomfortable and if your focus is elsewhere, you may miss the signs that they may be falling ill, dehydrating, etc.  A day at the beach or a hike is fine but be sure to bring plenty of water and seek shade often.
Pets can sunburn too! Be mindful of their ears, noses and even unexposed skin. A peely, burnt pet is an unhappy one. And skin cancer in pets isn't uncommon so be safe with them in the sun!
Don't overexert pets. A little fun and games is fun but hot and humid days can really cause harm on their own and working them up is not wise.
If you don't have air conditioning in your house, or are doing your best to conserve energy, be sure that your pet's area is cool. Put a fan close to them, make sure there is some cross ventilation and always fill their water bowls.
Leaving town? Think your baby is independent enough to be left for a day or so? Hmmmm, well, make sure that whomever is caring for your pet, even if just to feed them, pops in more frequently than normal.  Leave information for your vet and tell you pet sitter what your pet's disposition is usually like so that if they notice a big difference in appetite, etc, they should call you right away. I get it, boarding is expensive but get a groups together that helps each other out when someone goes on vacation. People with pets tend to care for your pets much more attentively because they know how to deal with things that might come up. It's cheaper and safer ; )
If you have a furry cat, dog, rabbit or other fuzz ball, be sure to get them groomed. Sure they may shed a bit to accommodate hotter weather but they will feel a whole lot better with a little snip here and there.
Keep an eye on where your pets may be grazing. Folks fertilize their lawns and gardens in the summer and many toxic chemicals are in the soil and run off. Watch for where they may be sniffing, tasting or licking as it could be deadly if ingested.
Fish can fall victim to the heat as well! If you live in a house with no a/c, keep track of how the water in your fish bowl or tank is warming up with a thermometer. Try to keep it at a comfortable temperature (low to mid 70s). Also, keep tanks away from windows as the heat and sun coming in is magnified by the glass in the tank so you may inadvertently cook your swimmers! Also, be sure to maintain your aquarium filter.
Same goes for birds. When you cover their cages at night, make sure it's a thin cloth and not a thick blanket. Your feathered friends could easily suffocate from the heat trapped inside. And if Tweety is allowed to roam free inside the house, be aware of open windows and doors. Many birds are killed in their homes by slamming doors that they are trying to fly through!
Don't feed your pets heavy foods during the summer. Just like us, heavy foods take longer to digest and can cause our body temps to rise so if you and Fido are looking to cool down, eat lighter an less food  ; )
Biting is more frequent in pets during the summer months. Because they are hot and uncomfortable, like us they can get cranky and they tend to bite when irritated. Be mindful of this around other animals and small children.
Spending time outdoors? Be prepared for pests! Fleas, mosquitoes and ticks are in abundance in the summer. So if you're spending a lot of time outdoors or entertaining other pets at your house, use proper flea and tick care. For a good natural way to keep your pets free of pests is using essential oils. They smell great, are vegan, eco and non-toxic!
Hopefully some of these will help you and your beloveds get through summer happily and healthily!! Enjoy!!