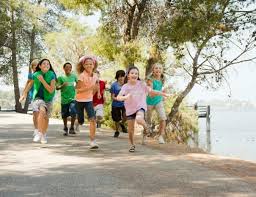 Summer days come with warmth, sunshine, and plenty of opportunities. But you want to ensure your little one remains comfortable and protected. The clothes they wear should protect their bodies from the sun's strong rays.
You should thus wisely choose suitable kid summer clothing to ensure your kids remain cool in those strong rays.
Choosing Kid Summer Clothing
With the rise of mercury, the lives of kids are at the risk of sun exposure and overheating. As compared to adults, kids rarely notice when to take a break for shade and water. More so, sunburns in a kid double the danger of melanoma.
It's recommended you choose suitable toddler summer outfits that offer maximum UV protection. Follow basic skin care tips to protect your child. Your toddler should enjoy summer without over overheating.
Learn how to pick kid summer clothing that'll keep your toddler cool in the hot sun.
Choose Cotton Fabrics
Children and adults alike are at the risk of overheating on summer's toastiest days. To help your young one, select loose-fitting clothing which is 100% cotton. Lightweight cotton permits air to reach their body, lets sweat evaporate, prevents irritation, and cools the skin.
Lighten Up
Hot weather demands for simple outfits with minimum layers. Lose the tees and onesie under your kid's shorts to cool them down. For little girls, get a simple sleeveless knit dress that makes dressing a breeze.
Little boys appear cool and casual in simple pull-on shorts or tees. 
Layer on the Sunblock
Get sunscreen for your toddler. Studies reveal that early-in-life sunburns make the skin more skin cancer-vulnerable.
Experts recommend physical barrier sunscreens that utilize zinc oxide or titanium dioxide to block dangerous rays over chemical sunscreens.
The substances offer better protection against UVB and UVA rays. They also start working immediately. Experts advise for a nickel-sized amount on the face. Reapply it if necessary. 
Embrace their Nudist Streak
Toddlers are used to wearing many outfits. If they're going out in the hot sun, their kid shouldn't wear more than a onesie or a diaper. The toddlers can also hang in the private, outdoor shade space or where the sun is blocked fully. 
Remember to tick-check afterward.
Go For Sun-Blocking Clothes
If you're outside for extended periods, choose toddlers summer clothing that have sun protection; UPF. Choose clothing with higher UPF ratings to block more harmful rays. For instance, a shirt rated UPF 15 permits 1/15th of the sun's rays. 
You can use special sun-blocking detergent to wash the fabrics. 
Include a Hat
Use sun hats to protect your child's face, neck, ears, and scalp. That's if using sunscreen to their faces isn't possible. Search for the one with an oversized brim and a chin strap UPF protected lightweight cotton. 
Try Sunglasses
It's not early to sport sunglasses even though they help to protect your eyes. Select a pair that obstructs 100% of both UVB and UVA rays. For the little ones who can't retain them, try an elastic band.
Become a model by wearing your sunglasses while outside. 
Pick Smart Sandals
Your child has tender feet and yearns to explore. Get a waterproof sandal made of quick-drying fabric and a flexible sole. 
Prepare for the Pool
The sun rays are intense around water. Keep your toddler's feet covered when at the beach or pool. Include a swimsuit and a long-sleeved rash guard to secure your toddler's arms and torso. 
Rash guards are composed of fast-drying fabrics. Get those with built-in UV protection and don't forget your kid's swim diaper!
Pick the Perfect Pajamas
What should your child wear in bed during the summer? It majorly depends on your house temperature. If the A/C is on full blast, a lightweight blanket and short-sleeve cotton pajamas are the right choices.
Does your little one run warm while asleep? What about your house, is it muggy? If that's the case, a light sheet and a onesie are enough.
Invest In Good Footwear
It's vital that your kid's feet are appropriately supported while they're growing. Ensure the shoes or sandals you select have sufficient sweat-wicking material and don't squeeze the toes. That prevents discomfort and blisters. 
Wash Child's Cloths in Sun Protection
Darker colors ideally block the sun rays, absorb heat, and don't reflect it. For light-colored toddler summer outfits, use sun guard to wash them. The sun protection formula washes fabrics with 30 SPF of sunscreen.
Cover Your Toddler at the Beach or Pool
Your toddler's summer wardrobe isn't complete without swimsuits. For enough protection from intense sun rays, put a top over your kid's swimsuit while they're out in the sun. You can get short-sleeved tops or body-hugging outfits. 
Consider buying a swimwear with built-in sun protection. If your child is in potty training, buy a built-in swim diaper suit. They should wear the swim diaper below their suit. 
Carry an Extra Layer of Clothes
Most kids will be fine in a short, a skirt or onesie. Mostly keep your child in a single layer to avoid overheating. Pack an extra layer, for instance, a sweater or a button-up shirt in the diaper bag. 
That's in case you go somewhere cooler. For instance, your child may wear a short sleeve at home, but while in the grocery store, they will need a light sweater. 
Skip the Socks While Outside
Leave the socks for a child who is playing outside. But in an air-conditioned room, socks offer warmth to their feet. Babies who aren't walking should not wear socks or shoes.
Find Light-Colored Clothing
Light-colored clothing reflects most of the sun rays. Hence, they keep your child cooler during summer. They don't retain heat as the dark ones. Pale tones and pastels work best. 
The tips above are helpful whenever you are choosing the best fashion for children in summer.
Winding Up
Summer comes with excitement and responsibility, particularly when it comes to wearing the right outfits. Your child's clothing should protect them against the hot sun and offer some posing sass for those holiday snaps. 
You don't want to see your child exposed to dangerous UV rays. We provide you better tips for living a good lifestyle and get you prepared for the next adventure. So stay tuned to our blog.