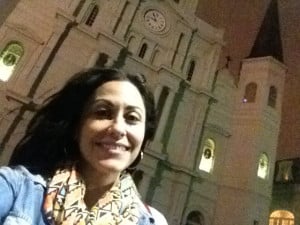 Every time I come back to New Orleans, I'm pleasantly surprised by the ever growing vegan, gluten free and overall healthy options. From my original finds to these new ones, dining healthfully in the Big Easy has never been easier!
Being Latina, whenever I can find authentic Colombian, Cuban or Caribbean cuisine, I'm all over it. So I was really excited to find Mayas Nuevo Latino! featuring fresh Latin dishes, Mayas also offers some mega tasty vegetarian and vegan options. I always have to have yucca and plantains but their veggie tamale knocked my socks off as did their veggie empanadas. Woohoo!
Meals from the Heart Cafe was a great little surprise when I was walking through the open air market. A lunch counter located in the historic french market, MHC offers fabulous vegan black bean burgers, pancakes (also gluten free!), homemade vegan apple patties (yummmm!) and portobello sandwiches. It's a great place to relax and have a quick and tasty bite while site seeing in the french quarter.
Stumbling across Seed was an awesome experience because since they boast "Garden Based with NOLA Taste" I had to try it out for myself! With a super chic vibe, this raw and healthy veg establishment, it's really tough to make a choice on what to order. Fresh juices, salads, soups and incredible entrees, you may want to pop in more than once to try everything on the menu!  I LOVE the raw enchiladas and the grilled cauliflower. The poboys a great and the beignets are a must! One of my all time faves in all of NOLA!
If you're looking for a super fun vibe and some fun grub for everyone in your dining party, 13 is the place for you. From vegan black bean chili & nachos to a bunch of delicious tofu sandwiches (bbq, herb, sesame tofu salad, Ruben's & even bahn mi's), you'll leave quite happy after dining at 13 bar & restaurant!
I always love visiting New Orleans and I'll be sure to report back on new finds!