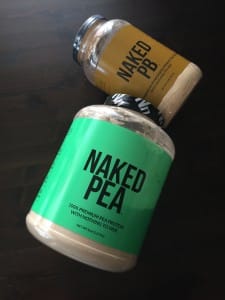 Healthy living can be overwhelming, especially as a vegan or vegetarian, what with all the conflicting information out there as well as all the products on the market claiming they are good for us. And when it comes to protein powders, that can really make your head spin! The market is full of all sorts of products that promise all sorts of things but one brand is showing the simplicity is the clean and convenient way to go.
Well, my new fave is Naked Protein powder because it really is just pea, rice, bcaa or peanut protein. It's vegan, soy and gluten free, exclusively From Farms in the United States and Canada, No Artificial Sweeteners, Flavors, or Colors and has 27 Grams of Protein and 5.7 Grams of BCAA's Per Serving.
With only one ingredient, Yellow Pea Protein, rice or peanut, it is also GMO Free and comes from environmentally-friendly farming practices. Naked's superior amino acid profile is the result of processing via mechanical water-extraction without the use of chemicals. Naked Nutrition is committed to shortening the steps between their farms and you.
No crap, no fillers, just healthy vegan protein!
With vegan varieties for all your protein needs such as:
Vegan Rice Protein
Vegan Pea Protein
Vegan Peanut Butter
Vegan Branch Chain Aminos
Vegan Energy
Vegan Glutamine
Vegan Pea + Matcha
Their selection of vegan protein powders are perfect for making vegan protein shakes and healthy living. All their raw vegan protein powders contain only one ingredient, stripping out unnecessary additives. Shop today and get #nextlevelnaked.
And that's why Naked Nutrition is Healthy Voyager Approved!