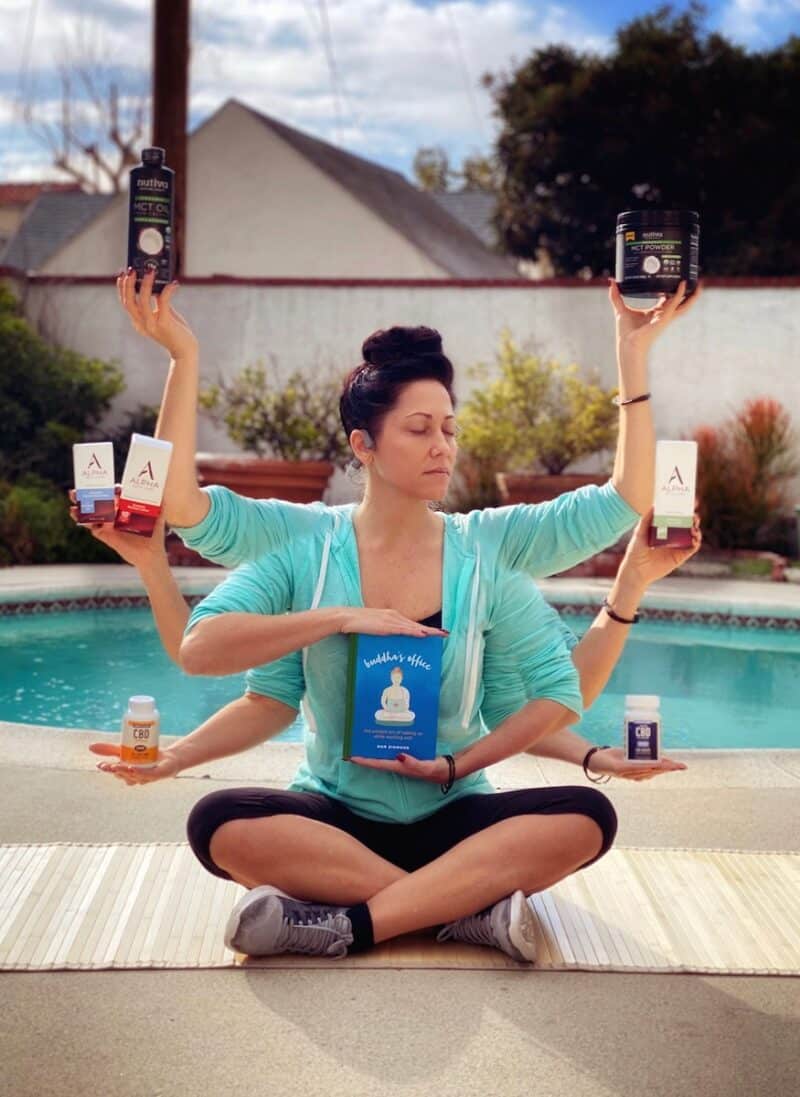 Welcome to a new year and new decade! For many, we have all made some decisions on how we want to make this year the best one yet and one of the most popular ones is to get healthy. Be it to lose weight, lead a healthier lifestyle or find balance, it can be a bit of a daunting task to get on that path to wellness in the new year however, with these awesome products, it's a piece of cake!
Aeropex from AfterShokz
We all can agree that "getting a move on" in some way shape or form is key to wellness and health. Whether you are a gym rat or would rather break a sweat in nature, music is a great motivator. And what better way to get those tunes than from these state of the art headphones!
AfterShokz Aeropex open-ear headphones in Lunar Grey are unlike traditional headphones. AfterShokz rest outside of the ears and use bone conduction technology to transmit sound. As a bonus, AfterShokz are extremely lightweight, comfortable, and stay in place so that you can focus on your music and your training! No more pain from uncomfortable earbuds and all the sound quality you love!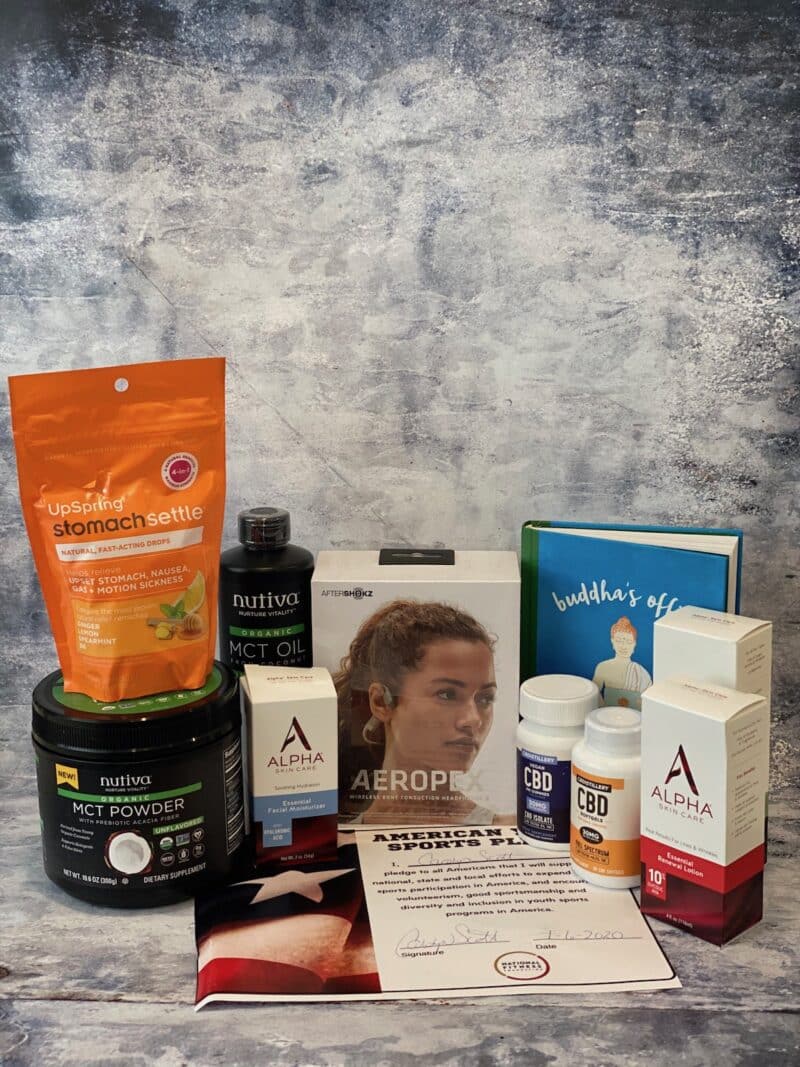 With an 8-hour battery life, sweat & waterproof (cannot use for swimming) you can tune in, without tuning out so you can stay alert and safe no matter where you roam.
As an added bonus for my readers, you can get a pair of your own today with Discount code RESET50 when shopping on their site.
The discount code will be valid for $50 off an Endurance Aeropex bundle (Valid dates: 1/6/2020 – 3/6/2020)
Alpha Skin Care
Beauty is skin deep but it's also our largest organ and needs special care. It is our first defense and we absorb everything that goes on it so it's super important that we treat our skin with only the best stuff like the starter kit line from Alpha Skin Care!
Refreshing Face Wash
The most basic step in all skin care routines. This gentle soap-free formula uses Citric Alpha Hydroxy Acid (AHA) to gently cleanse and remove make-up, dirt, excess oil, and skin impurities. It restores ideal pH balance for the most effective use with Alpha Skin Care products. Use as the first step in your morning or evening skincare routine.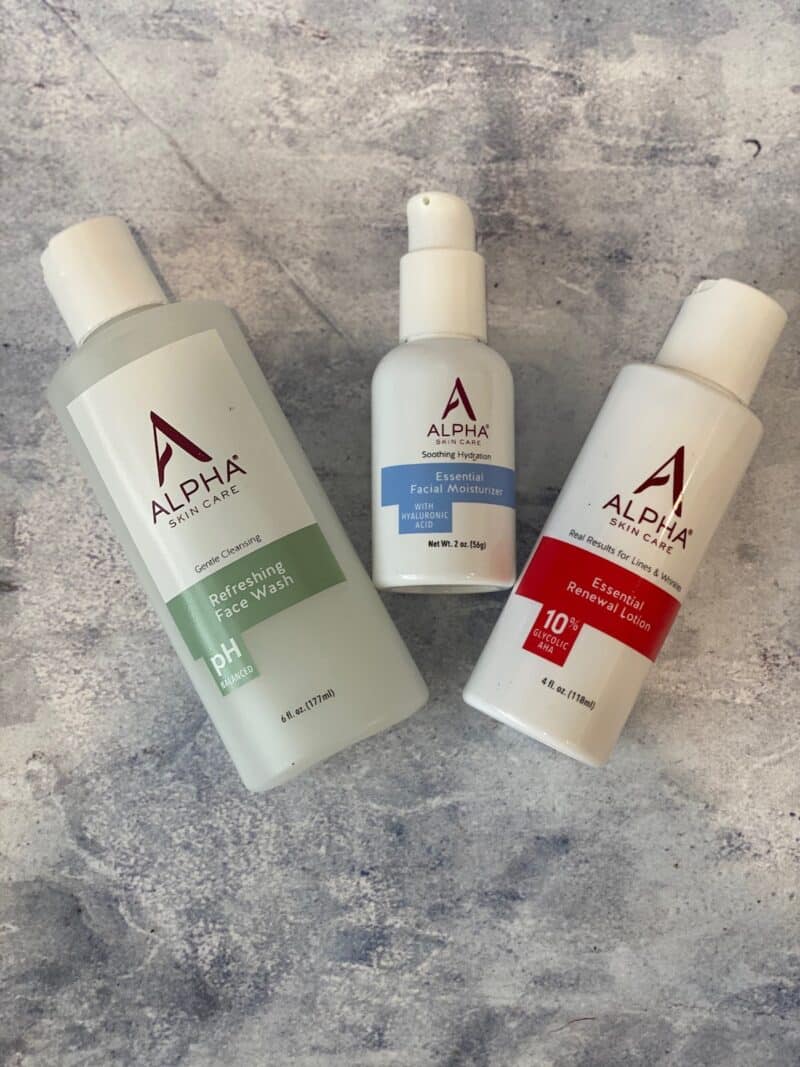 The wash gently cleanses without over-drying skin and a great way to start and end your day.
10% AHA Essential Renewal Lotion
Get started with an anti-aging routine by using our unique 10% Glycolic AHA lotion. A perfect introduction for new users, gently lifts away dull, dead skin cells revealing new, younger-looking skin.
The renewal lotion reduces the appearance of lines & wrinkles, helps to support collagen production and evens skin tone and texture.
Essential Facial Moisturizer
Follow-up the cleansing and renewal steps with good moisturizer. Our unique facial moisturizer is specially formulated with the optimal balance of Hyaluronic Acid, Vitamins B, E and Aloe Vera. It is free of parabens and fragrances and is the perfect way to end your skin care routine.
Hydrating and nourishing skin, the essential facial moisturizer helps to prevent the appearance of lines and wrinkles and leaves skin feeling healthy, soft and smooth.
Interested in getting your starter kit? Use offer code Babble20 to get 20% off all Alpha Skin Care purchases through 4/15/20.
CBDistillery Softgels and Gummies
Stress is pretty unavoidable in our daily lives but how we react to and treat it is what's important. That's why I love CBDistillery products!
CBDistillery utilizes third-party lab tests on each product. They make results available to you, so that you always know exactly what is in your product. They were one of the first CBD companies ever to provide this information to consumers.
CBD is an adaptogen, and therefore takes time and consistency for full effects to be felt. It is working to bring your body back into natural balance, not to mask any symptoms or problems, but rather to get to the root of your issue.
Every body is different. Some bodies adapt much more quickly than others, and need continual adjustment of dosage depending on how out of balance you are, what your metabolism is like, what your body composition is, and what you are using the CBD for. Dosage is a personal matter and takes some playing around to find your personal optimal dosage level, but we always recommend starting at around 30mg of CBD.
On the daily: Full Spectrum CBD Softgels – 30mg – 30 Count
Pop and go! CBDistillery™ Full Spectrum Softgels are among the most convenient ways to get your daily dose of CBD. With a perfectly pre-measured serving of 30mg CBD in each softgel, you'll never have to worry about counting drops or mixing and measuring again. Get all the benefits of Full Spectrum hemp-derived CBD with our 30mg Softgels!
At night: CBD Nighttime Gummies – 30mg – 25 Count
With the 30mg of CBD and 1.5mg of melatonin that you count on and the natural flavors and ingredients that you love, their gummies are gluten-free, allergen-free, vegan, and kosher. Our CBD PM Gummies combine the highest quality hemp-derived CBD with the natural calming properties of melatonin. You'll want to keep these on your nightstand so you'll never be without the perfect bedtime gummy. Made with 99+% pure CBD Isolate, you can enjoy all of the benefits of CBD with 0% THC.
Get your CBD on using code NEWYEARNEWME to get a 20% discount on their website!
Nutiva MCT
MCTs (medium-chain triglycerides) provide clean energy, boost metabolism and enhance mental clarity and Nutiva's MCT products are second to none!
Nutiva Organic MCT Oil
Nutiva Organic MCT Oil is concentrated with medium-chain triglycerides, capric acid and caprylic acid. Medium-chain triglycerides (MCTs) are easily digested and provide energy, support the metabolism and are burned by the body for energy and fuel.
Nutiva Organic MCT Oil is derived only from young organic coconuts and is an excellent option for athletes or those following a vegan, ketogenic, or plant-based diet. For a quick boost, blend MCT Oil into your smoothies, shakes and coffee.
Nutiva Organic MCT Powder
Organic MCT Powder starts with Nutiva's Organic MCT Oil, which is made from 100% organic virgin coconut oil. To ensure that the quality fats blend perfectly into any beverage, they add prebiotic acacia fiber and a small amount of tapioca maltodextrin to deliver the same goodness in powdered form. NuMCT™ is simply pure, clean fuel. Try all 5 flavors: Turmeric, Vanilla, Chocolate, Matcha and Classic.
Nutiva Organic MCT Powder delivers digestible fatty acids that quickly convert to ketones, giving the brain, muscles and other tissues fast and sustained energy. A creamy alternative to Nutiva Organic MCT Oil you can stir into coffee, tea, smoothies and shakes for a boost any time of day.
Get your Nutiva MCT products today using code NEWYEARBOXX30 for 30% off MCT products (One use per customer and can't be combined with other discount)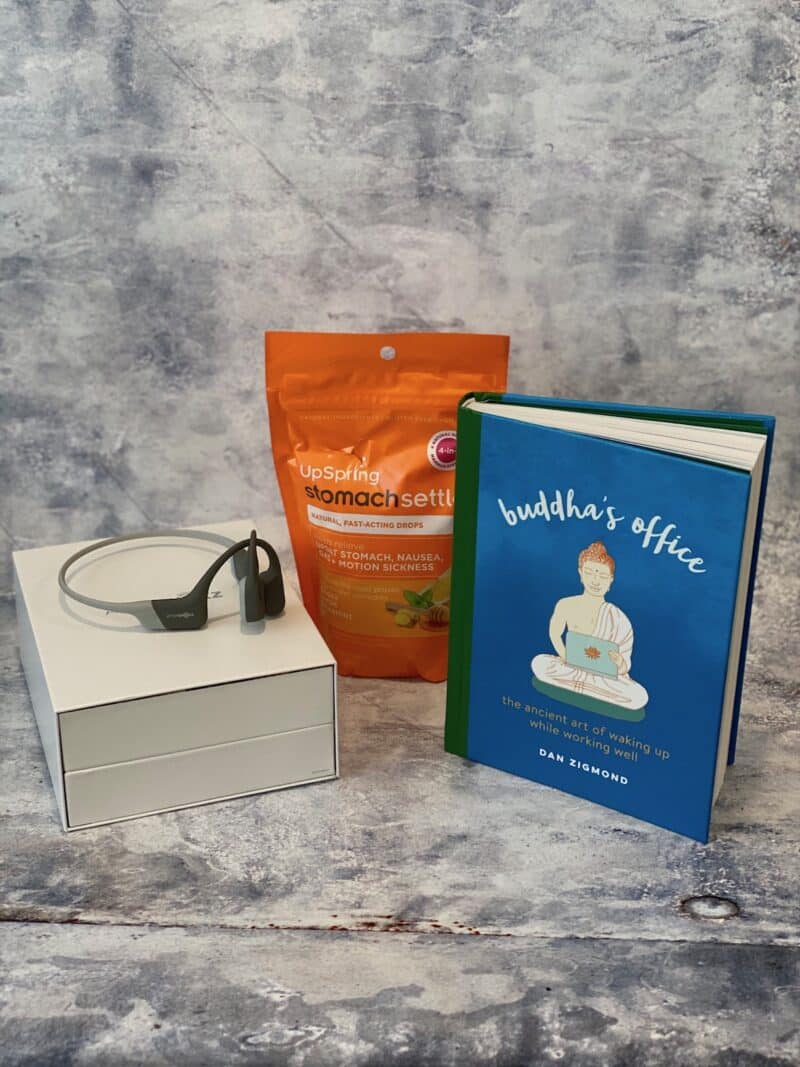 Buddha's Office and The Ancient Art of Waking Up While Working Well by Dan Zigmond
Sometimes we need a few wise words to get us motivated and this book is that very thing. A simple, digestible guide to incorporating Buddhist wisdom into everyday tasks for increased mindfulness and peace-of-mind!
You don't have to become Buddhist to apply these teachings to your own life. Buddha never used that word, and might not be thrilled with the way people use it today. He believed in paying attention, taking care of ourselves and waking up. This book will show you how Buddha's simple instructions apply to our everyday lives.
Buddha's Office understands that your commitments are important; find a way of working that is "right" in every sense of the word: right for you, right for your health, right for your sanity, and right for the world.
Stomach Settle Drops from UpSpring
You never know when you're tummy is going to act up so it's always good to have something on hand to help in those moments. Available at Target and Walmart, UpSpring Stomach Settle Drops are the natural, fast-acting solution for nausea and digestive upset, as well as motion sickness, morning sickness, and beyond.
Stomach Settle Drops contain 4 proven natural ingredients to help relieve an upset stomach including ginger, lemon, spearmint and vitamin B6. Stomach Settle Drops are discreet and individually wrapped with a mild lemon-ginger-honey flavor. Recommended for ages 14+.
The American Youth Sports Pledge from The National Endowment for Youth Sports
An important part of holistic health is helping and supporting others. That's why I love The National Endowment for Youth Sports!
The positive benefits of youth sports participation are overwhelming, yet for many Americans, including the nearly 13 million children living in poverty, access to youth sports is incredibly challenging.
The National Endowment for Youth Sports (NEYS) is a United States Congressionally Chartered nonprofit focused on making sports accessible for all youth in America including girls, children with disabilities and children in economically distressed regions of the country.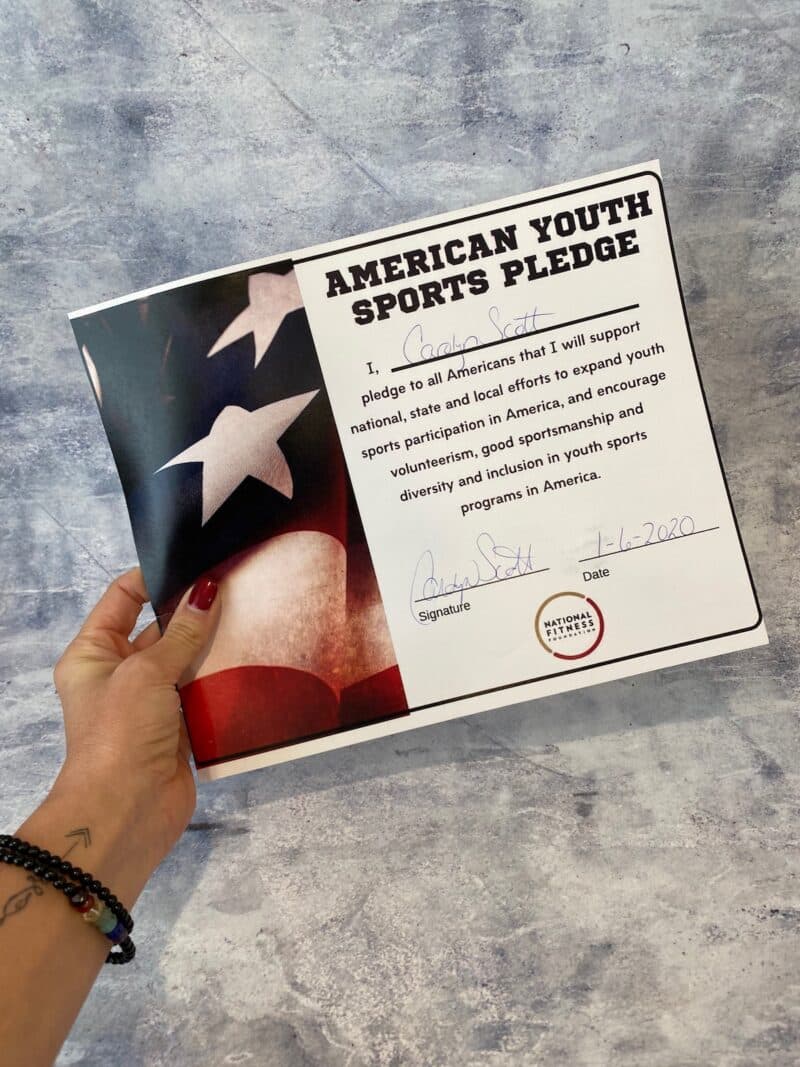 The mission of the NEYS is to raise more than $100 million to provide annual and ongoing grants for permanent and accessible youth sports programs throughout the country.
And Here Are the Reasons Why:
●  Sports participation leads to better self-esteem, enhanced creativity and higher
states of psychological well-being
●  Significantly more likely to graduate from high school and attend college
●  Youth Sports participation benefits economically disadvantaged students more
than any other U.S. social program
●  Regular activity builds life skills such as leadership, resilience, teamwork and civic
engagement
As part of your 2020 Resolution, we're asking you to take the American Youth Sports Pledge and help NEYS spread the word!
And with that I wish you a happy and healthy new year!