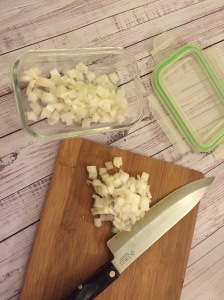 Meal prepping has been praised by many nutritionists and other health professionals for some time now, and for good reason. Preparing meals ahead of time is a simple-yet-effective way of keeping on top of your daily food intake, ensuring you're getting the nutrition you need and could also save you money whilst doing so. But for many of us, meal prepping can seem like a complicated task, best left to professionals.
When executed well, meal prepping can be extremely helpful for those who are looking to lose weight. As with any diet plan, preparing meals ahead of time does require forward planning and organisation. But with a little know-how and the correct strategy, you'll be meal prepping like a pro, making healthy, nutritious meals that are sure to help you stick to your diet plan and lose weight in the process. 
Learning how to meal prep like a pro is all about prior preparation and planning. So if you're looking to control your calorie and nutritional intake, lose weight and meet your health and fitness goals, below are some tips and tricks on how to get started. 
Before You Begin
In order to work successfully, you'll have to strategize and plan ahead before you start prepping your meals. Before you begin your journey consider the following:
Investing in the right tools for the job will make meal prepping easier and more enjoyable. You'll need items such as meal prep food containers, flasks and kitchen scales. Having other kitchen appliances such as a good quality

food processor

and steamer will also help if you plan on being creative with your meals or snacks.

Which meals are currently your weak spot? If you already eat a healthy, balanced lunch then meal prepping for breakfast or dinner may be the best place to begin your meal prep journey.

Start slow. Meal prepping for the majority of your meals can be overwhelming, so instead, start small by preparing just a handful of meals or snacks each week.

Figure out a schedule. Meal planning can be easy and efficient when planned correctly. Choose a day each week to plan and cook your meals for the week ahead. 
Work On Your Unique Diet Plan
One of the most important parts of any successful diet is to work towards being in a caloric deficit. This means to consume fewer calories than your body requires to maintain your current weight. This deficit can be met by eating fewer calories, increasing the number of calories we burn or ideally both. 
Once you know how many calories you need to stick to in order to meet your weight loss goals, then it's time to figure out where you will be getting those calories from. Choose nutrient-rich foods and prepare sensible sized portions. Your kitchen scales will ensure you can measure exact portion sizes and you may want to consider downloading one of the many food tracking apps to help you keep track of the calorie content of certain foods. Below are some things to consider when planning your meals:
Vegetables should make up at least 1/3 of your meals. Veggies not only promote a healthy metabolism but they are also high in key nutrients and fibre that will help you feel satisfied for longer.

Add a protein source such as chicken, fish or tofu to each meal. Lean proteins will also keep you feeling fuller for longer whilst also supporting lean muscle development.

Avoid processed, fried or breaded foods. These are often high in calories. Stick with fresh options wherever possible.

Starchy foods and carbohydrates should make up no more than 1/3 of your meals. Wholegrain cereals, brown rice, pasta and potatoes are great sources of fibre and other essential nutrients. What's more, rice and pasta can last for up to 72 hours (3 days) when stored at the correct temperature and also go well with most other ingredients and flavours you may wish to use.

When adding healthy fats such as nuts, seeds and oils to your meals tread with caution. Be sure to weigh out only what you need and try to keep your portions as small as possible.

Lemon juice, vinegar, natural yoghurt, fresh chilli and other herbs and spices are the perfect way to add flavour to your meals. Try to avoid using large amounts of cheese and sauces which are often high in salt, sugar or fat. 
Whether you choose to simply pre-prepare your lunch the night before, or plan on meal prepping for an entire week ahead, hopefully, the above information has given you some pointers on how to get started. There are multiple benefits of meal prepping and when done correctly, it can greatly improve your diet, overall health and wellbeing. Pre-preparing healthy and nutritious meals and snacks can greatly reduce the risk of you making poor food choices and, therefore, letting your diet plans slip. With just a small amount of forward-thinking, you could stay on top of your daily food intake, provide your body with the nutrition it needs and easily reach your weight loss goals.