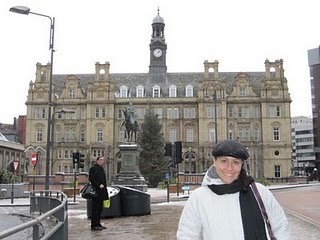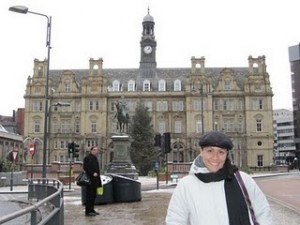 On our way back to London from Blackpool, we made a pit stop in Leeds. A historic English town that is also home to University of Leeds, I hopped off the train in downtown and was smack in the middle of beautiful buildings, shopping centers and eateries.  Surrounded by countryside, this city has the best of both worlds. And with that, comes great dining!
Steps away from the train station you will find the old post office building, in the heart of city square. Now remodeled, you will find The Restaurant Bar & Grill inside, modern and sophisticated. This beautiful space hosts a large bar and gourmet menu. I veganized the Mezze appetizer platter and gobbled it right up. This large plate was a Mediterranean tasting menu with a neat twist. Covered with falafel, oloves, hummus and pita, my favorite were the butternut squash fritters, mmmm! I could have eaten a whole plate of those for sure!  Save your appetite and as soon as you arrive in downtown Leeds, make a beeline to The Restaurant Bar & Grill.
I stumbled upon Roots & Fruits
and figured it would be a great veggie friendly joint, and I was right! It dishes up a fully vegetarian international menu of goodness from Mexican to Indian, accommodating vegans easily. I devoured my wild mushroom pate on sun-dried foccaccia sandwich along with a hearty bowl of Mexican bean & tomato soup. It totally hit the spot and beat the chill quite nicely!
You can rarely go wrong finding healthy and/or veggie meal at an Indian spot. And especially when it's a completely vegetarian spot! Hansa's Gujarati Vegetarian Restaurant specializes in cuisine from the western coast of India and has been rockin' for over 20 years. Outside of their fresh fare, they also cater, host phenomenal cooking classes and are well known for their fabulous cakes.  And if you can't make it into Hansa's, they have their own cookbook. Eat with your fingers or eat with a fork but either way, eat at Hansas's!
I'd love to spend some more time in Leeds as the historic architecture is gorgeous. Plus, I think there is plenty more to eat in this bustling metropolis tucked away in West Yorkshire, England ; )