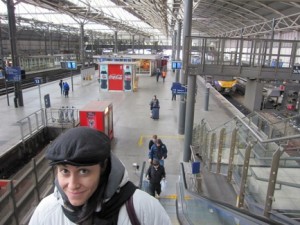 I've been to London several times and every time, I find more and more veggie yumminess.  It's quickly becoming one of the most veg friendly cities in the world and delicious to boot!  Gone are the days of poking fun at bland English food and welcome to a veritable taste bud frenzy. In addition to the last London post, here are a few more spots that I couldn't leave out of the mix ; )
One of my favorite things about London is the amount of quick food spots all over town. And by quick food, I don't mean fast food. I mean eateries that have fresh sandwiches, soups, salads and other treats that are made daily. A lot of them have refrigerators packed with selections for a healthy to go treat as well as counters for an on the spot experience. Eat is just one of those places with convenient location all over town. I especially love their veggie meal or sandwich of the week and I fell in love with their veggie gyoza soup! Delish!!!  Quick, healthy & affordable – you can't beat that!
Itsu is yet another chain of quick food. Itsu's spin is sushi, noodles, soups and salads with a modern feel to each locale. Their motto is "Health & Happiness" which I believe they deliver on consistently ; ) For us non-sushi eating vegans, their miso soup and veggie dumplings are choice. Top it off with their organic dark chocolate rice cakes for an after lunch sweet tooth squasher!
Nothing is screams iconic London more then a red double decker bus.  But what would be cooler then dining on one? Dining on a vegan one! Here in London town there are 2 vegan bus-taurants, Rootmaster & Vegan Routes.  Each offers up killer vegan food and can be reserved for private events. Comfy, cute and tasty, these novelty restaurants are worth the ride ; )
If you're in need of some yoga and meditation after running around from tube to tube, check out Alchemy. A holistic sanctuary in the center of the city that also boasts a cef and juice bar. So after a relaxing session of Kundalini, treat yourself to a Hemp Mountain Magic Super Smoothie with hemp seed milk, maca, banana, agave syrup, mesquite and cacao nibs.  After all that sight seeing and eating you're way through jolly ol' London, you will need it!!
Next, I visit the English seaside & college towns – join me, won't you?