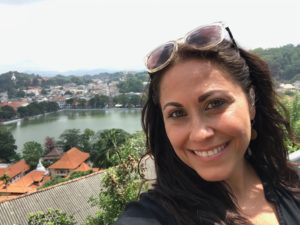 Kandy, located in central Sri Lanka, is set on a plateau surrounded by beautiful green mountains, home to tea plantations and biodiverse rainforest. The city's heart is scenic Kandy Lake, also known as Bogambara Lake, which is a beautiful place for a peaceful stroll. This historic city is famed for sacred Buddhist sites such as the Temple of the Tooth Relic shrine, which I was fortunate enough to see celebrated with the grand Esala Perahera parade and festival.
The last Sinhalese kingdom, Kandy, which means hill in Sri Lankan, stood strong against their British colonizers until 1815. Still seeped in rich Sri Lankan as well as colonial history, just walking the streets of this lovely mountain town is enough to make you fall in love. Be sure to also visit the botanical gardens, the famed temple as well as the Kadungannawa Tea Factory.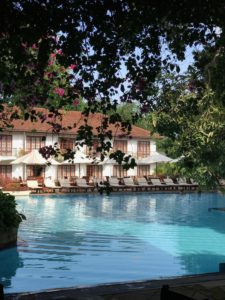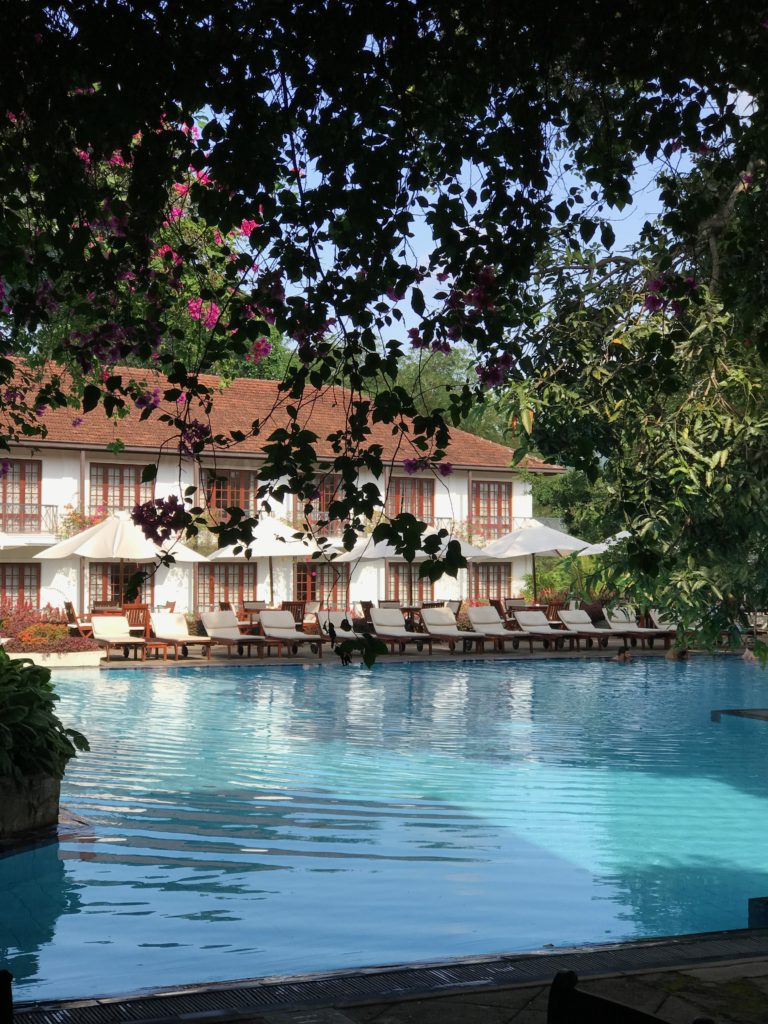 Where to stay in Kandy? Well the Mahaweli Reach hotel of course! This colonial style hotel combines a sense of refined luxury with the old world charm of an ancient kingdom. Located next to the Mahaweli River, the hotel boasts terrific food, accommodations, a picturesque pool and yes, a spa. As one of the leading hill country hotels in Sri Lanka, they actively commit towards environmental conservation. Mahaweli Reach Hotel continually strives to minimize its carbon footprint making as little impact as possible on the environment. As part of this initiative, they have joined hands with local communities to support environmentally friendly projects as well as find sustainable ways to give back to Mother Earth.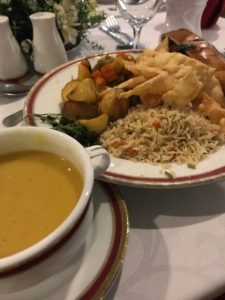 With 4 places to dine, either in doors or al fresco, accommodating all special diets and tastes, their spa that features signature services as well as local Sri Lankan organic products, shopping and unparalleled service, the Mahaweli Reach hotel will show you a side of Sri Lanka like no other place can.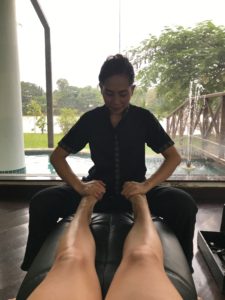 While taking a walking tour of Kandy, be sure to stop by Cafe Secret Alley for a tasty snack. Serving up all day breakfast, brunch, coffee, juices, sandwiches and snacks, it's a great place to relax and enjoy a yummy morsel.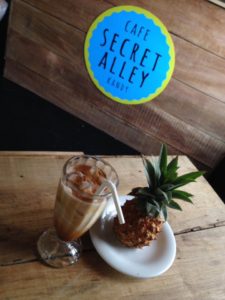 Another hidden gem is Soya Food Centre. The original veggie restaurant in Kandy, SFC boasts all sorts of vegan dishes, treats and most famously, ice cream! A must visit when in Kandy!
For a nice sit down meal near the lake and temple, grab a table at Empire Cafe. With offerings from burgers to salads, traditional sri lankan to international faves, it's a lovely place for a nice meal in a sweet environment.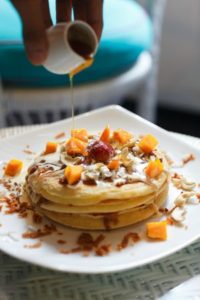 I would be remiss if I didn't mention Cool Corner Fried Ice Cream! Oh yeah, they have coconut and soy options of their famous treats so run, don't walk to Cool Corner!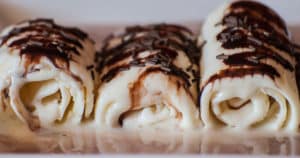 Kandy is gorgeous any time of year but if you do happen to arrive in July, the Esala Perahera festival is one of those once in a lifetime events that stays with you long after the experience.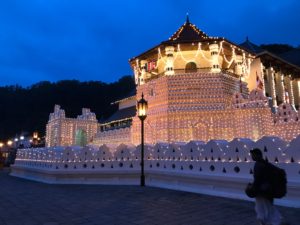 Esala Perahera celebrated to honor the Sacred Tooth Relic and the four 'guardian' Gods Natha, Vishnu, Kataragama and Goddess Pattini. It is a very grand affair with elegant costumes and is celebrated either in July or August depending on the Full Moon Poya Day. The Esala Perahera which is thought to date back to the 3rd century BC, was a ritual enacted to request the gods for rainfall. While the Dalada Perahera is believed to have begun when the Sacred Tooth Relic of the Buddha was brought to Sri Lanka from India during the 4th Century AD.
The Kandy Perahera features five processions organized by the Sri Dalada Maligawa , which is the most venerated Buddhist temple of Sri Lanka and four shrines dedicated to Hindu Gods and a Goddess. The 14th Century shrine that faces the Sri Dalada Maligawa is said to be the oldest edifice in Kandy.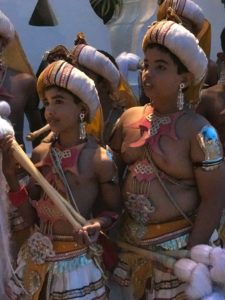 I was fortunate enough to see behind the scenes of the procession where the children and different groups were prepping in their costumes. Once the festivities began, I had "court side' seats where I got to watch every group in their signature attire so their unique and traditional dances through the streets of Kandy.
I will say as a warning to fellow animal lovers, that the use of the elephants in the procession is a tough pill to swallow. While I do understand and respect the significance and symbolism of these beautiful animals in this ancient festival, I can't deny my sad feelings of seeing these magnificent animals in chains being forced to do this against their will. I am absolutely torn by this but I am grateful to have been able to experience it in person not only for the magical festivities but also to learn about it, the treatment and significance of the animals as well as the cultural history for myself. Despite this, there is so much more to the Esala Perahera and is 100 percent worth being a part of.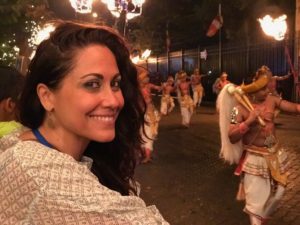 All withstanding, I love being able to see these types of cultural traditions so that I may educate myself as well as others, continuing to bridge the gap between our worlds.
Again, I'd love to thank the Sri Lanka Tourism Bureau for the once in a lifetime experience!