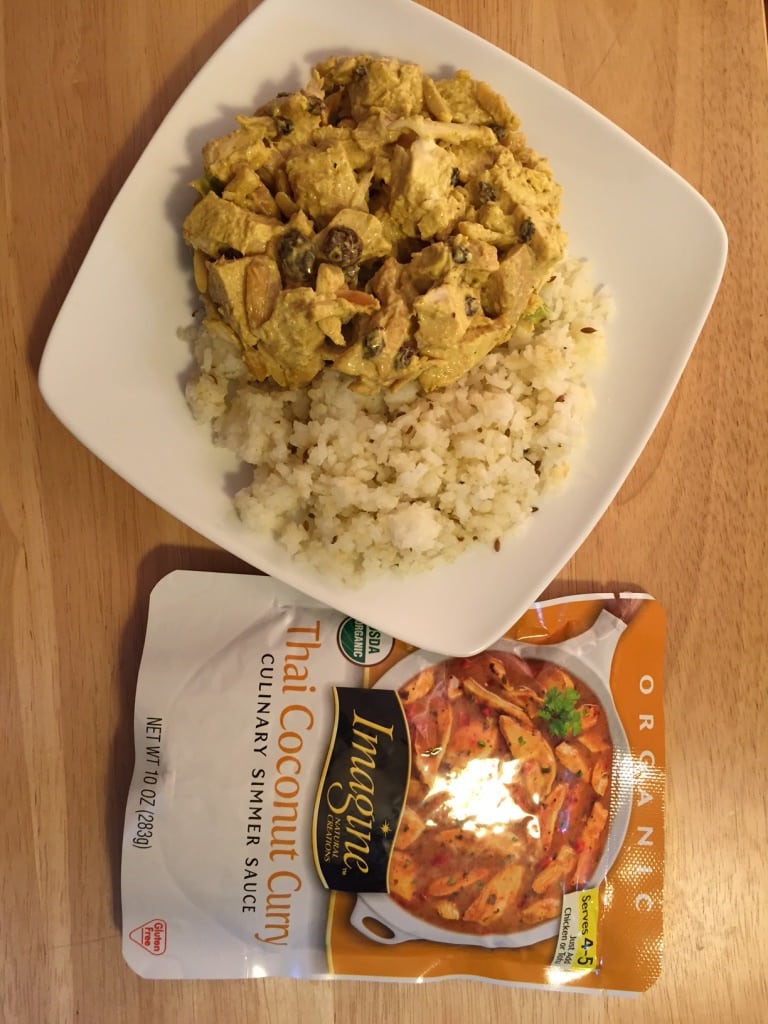 *This is a sponsored post written by me on behalf of Imagine Foods
So last week I whipped up Latin Veracruz Quinoa Stuffed Peppers  with Imagines new organic, gluten free and veg-friendly simmer sauces! It was so dang good, I had to do it again with a different flavor! This time, I chose the Thai Coconut simmer sauce to make my yummy and healthy dish!
But before I get into sharing this quick and easy recipe, I want to make sure you know you can have the chance to win big with Imagine! They are hosting a great sweepstakes that will take place on the Imagine® Facebook page(Mid-October through November). You can enter to win your own "Pan with a Plan" prize pack by entering the sweepstakes on Facebook. Entry rules are detailed online. 48 winners will be selected over the 6-week promotion. Each week, 8 winners will be selected to receive a "Pan with a Plan" prize pack (includes a saucepan, four Imagine® Organic Culinary Simmer Sauces, and a $25 grocery Visa gift card). Yay!
Be sure to enter and don't forget to share your creations with us and Imagine!
And now, my Vegan Thai Coconut Curry "Chicken" Salad Recipe!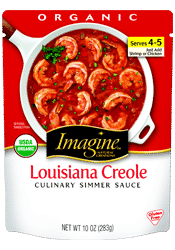 1/2 cup Imagine Organic Thai Coconut Simmer Sauce
2 tablespoons vegan mayonaise
1 cup vegan chicken strips (Beyond Meat or Gardein) or tofu
3/4 cup chopped Braeburn apple (about 1 small)
1/3 cup diced celery
3 tablespoons raisins or dates
1-2 tablespoons slivered peanuts
Combine mayonnaise & simmer sauce in a medium bowl, stirring with a whisk until well blended.
Cook vegan chicken or tofu in skillet over medium heat until lightly browned. Remove from heat, and add in sauce mixture until chicken or tofu is well coated.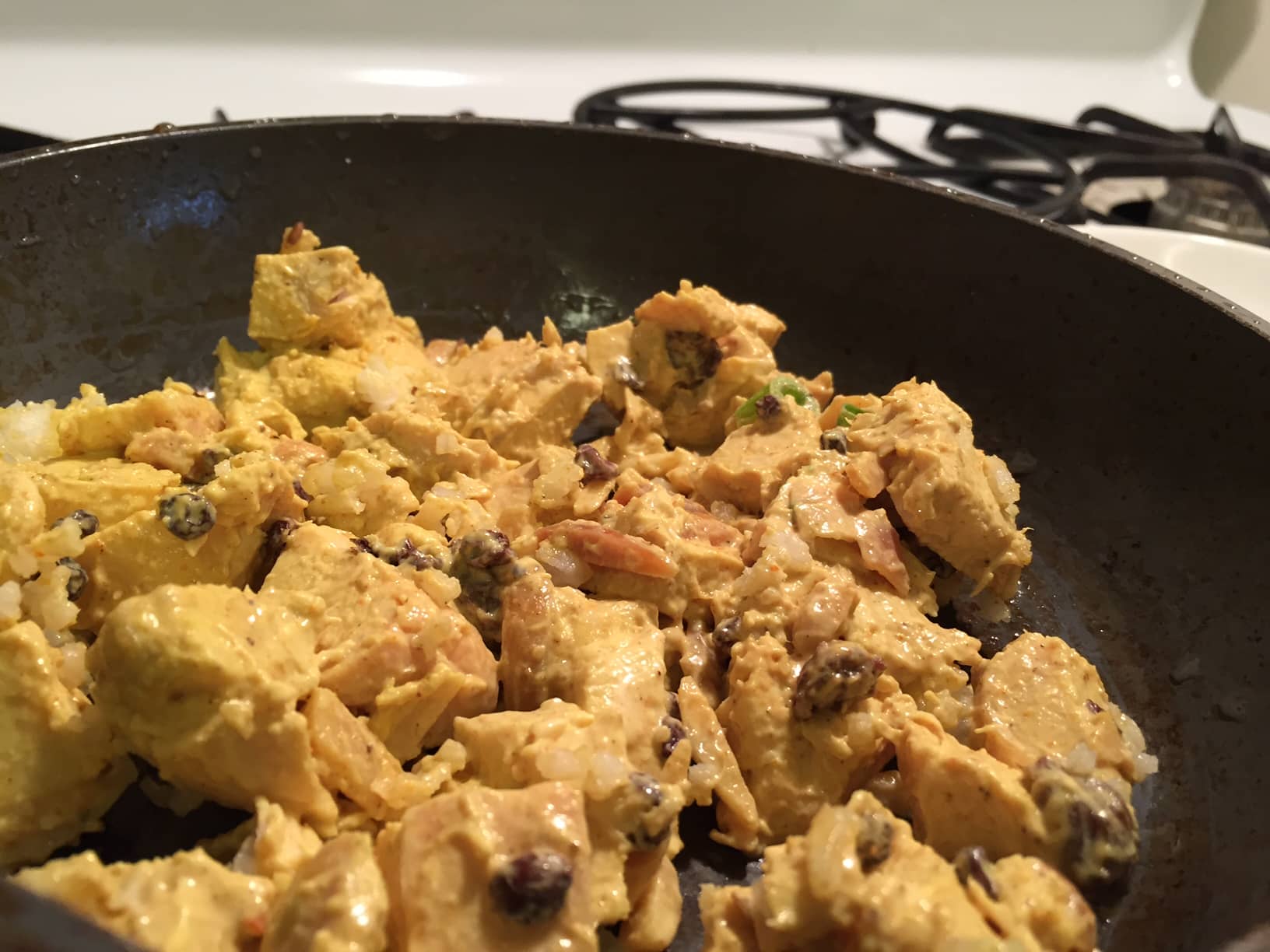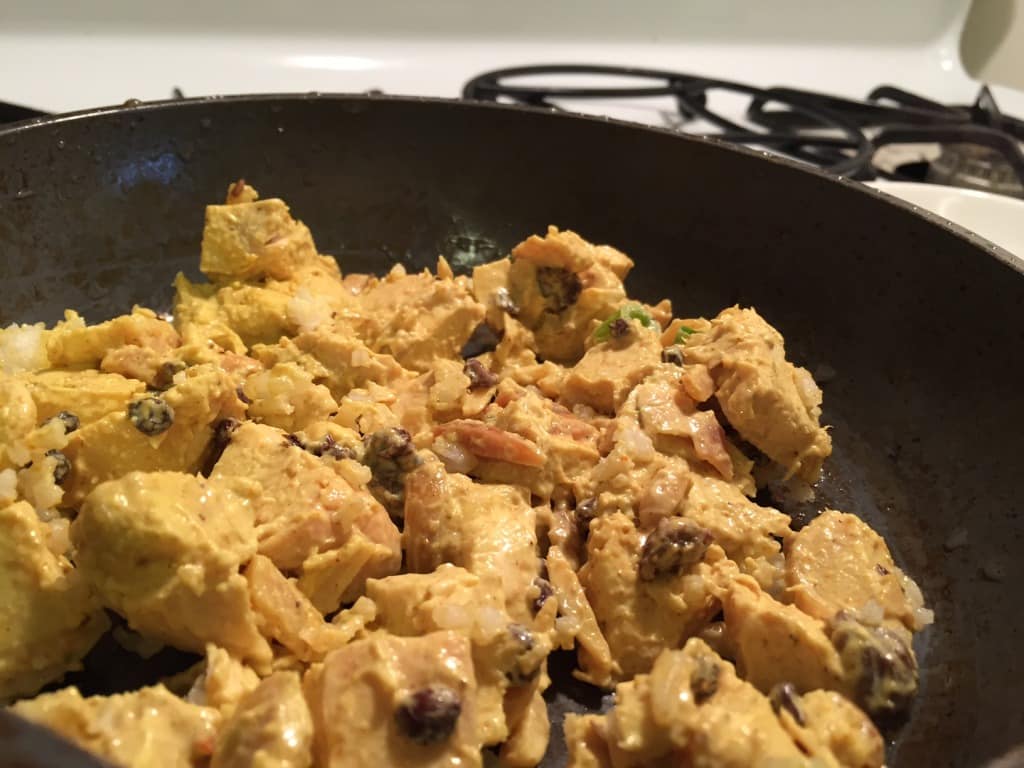 Add saucy chicken to a medium sized bowl and mix in chopped apple, celery and raisins; stir mixture well to combine. Serve warm with rice or cold as a salad on bread or bed of lettuce. Enjoy!
About Imagine Culinary Sauces
Imagine® Culinary Simmer Sauces helps all level of home cooks, from novice to pro, as they can create and liven up any dish they make! from gravies to sauces, latin to thai, you can travel the world from your kitchen every night of the week! And, in no time at all! AND guilt free as Imagine®Culinary Simmer Sauces are organic! These sauces are an absolute must have in every cooks pantry.
The sauces are available in four unique flavors:

Portobello Red Wine
Latin Veracruz
Thai Coconut Curry
Louisiana Creole
Nothing beats convenience at meal prep time and these sauces are a super quick and convenient way to make a gourmet meal in 3 easy steps and in just 10 minutes! Just sear your fave tofu, seitan, mushroom or veggies and add any optional ingredients. Then simmer with Imagine® Culinary Simmer Sauce and serve! It's a savory snap!
All of the new Imagine® Culinary Simmer Sauces are:
Certified Organic (1st Organic simmer sauce in a pouch)
Serves 4 – 5
No genetically engineered ingredients
No preservatives or artificial ingredients
No added MSG
Gluten Free
Vegetarian
 What would you create with Imagine Simmer Sauces?
 *This is a sponsored post written by me on behalf of Imagine Foods