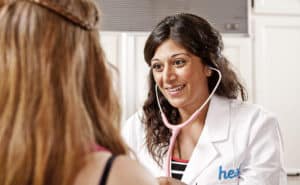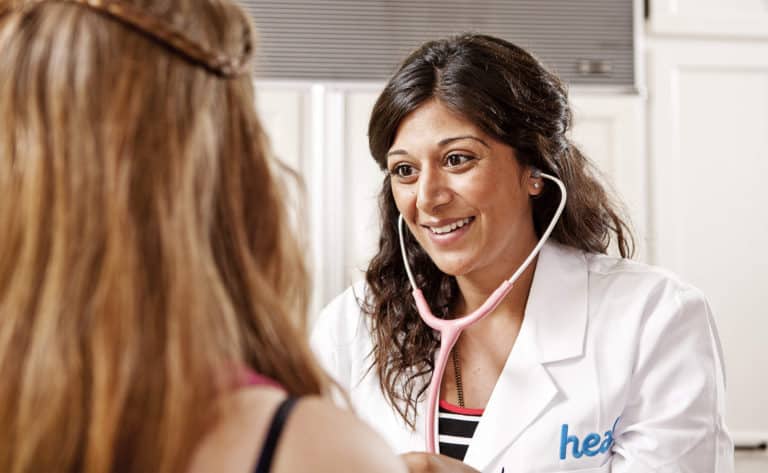 When do your symptoms cross over from the realm of "concerning" into "serious"? Even when you feel like something necessitates attention from a medical professional, it is easy to get in your own head about whether or not your condition is serious enough to warrant immediate care. Women especially have a tendency to undervalue their own pain as a result of being taken less seriously by doctors.
Should you schedule an appointment with your primary care physician and wait it out? How long should you wait if you even can schedule an appointment? How do you fit a visit to busy a urgent care into your own hectic schedule? With the uncertainty that comes with waiting times, sometimes you want a scheduled experience offered by a regular doctor's office.
With so many variables to consider, it's no wonder the medical industry is such a daunting, scary mess! More so when you're traveling, and you have to make the call on whether to wait to return home to see your regular doctor or take the plunge and visit a local urgent care facility.
But never fear! There are signs that you should wait it out to see your doctor, and, likewise, there are signs you should visit an urgent care facility in your immediate area.
Fever
If you have a fever but are managing it well enough, you should make an appointment with your primary care physician. This changes if you have sustained this fever over the course of more than a few days. It also necessitates an urgent care visit (or even an emergency room visit) if you feel excessively dehydrated or your fever has exceeded 103 Fahrenheit. Your normal body temperature is 98.6, so anything over 103 is dangerous and should be attended to immediately.
There are plenty of things that can cause a fever. Viruses, bacteria, and fungi are but a few of the possible causes. If you are unsure of the reason or feel as though you are having trouble breaking the fever within a safe length of time, you should visit an urgent care facility.
Sprain, Fracture, or Broken Bone
Depending on the bone or joint in question, you may or may not need to visit an emergency room. A lot of modern urgent care facilities are well equipped with x-ray machines. If you are worried about a sprain that isn't debilitating, you might be able to wait to see your primary care physician. However, there is no harm in visiting an urgent care if you are in pain.
If you are losing blood at an alarming rate or cannot control bleeding from any wound, you should go straight to an emergency room.
Allergies
Previously unknown allergies can turn dangerous very quickly. Mundane reactions can quickly become dangerous when ignored, so just not acknowledging an allergic reaction is not a viable solution—however mild the symptoms may be. Hives, rashes, sneezing, or itchy lips or eyes are all things you should watch out for. If you do not have a history of allergic reactions or allergies, you should respond promptly and identify the trigger as soon as possible.
Like Community Health 1st ER, often touted as the best urgent care in Deer Park, TX, says, "We offer same-day testing for allergies, with an on-site diagnostic testing can provide information on allergic conditions." Look for emergency care facilities that can offer the same convenience if you are concerned about something unidentified in your environment triggering an allergic reaction.
If you do discover a new allergy or allergic reaction, you should promptly inform your primary care physician, whether or not you have visited an urgent care or emergency room initially. You want to keep your main doctor in the loop on your health, after all!
Abdominal Pain
Severe and sustained abdominal pain can inhibit your ability to function normally. If you are having trouble walking or performing day-to-day tasks, you need to visit an urgent care or emergency room.
However, abdominal pain that isn't immediately debilitating but persistent nonetheless could just be gas. It is hard to believe that gas can be so painful. Doctors can usually discern fairly quickly whether gas is a factor, but there are plenty of over the counter treatments you can try to bust your gas. If they work, you've found the culprit—and without a copay!
The most troublesome abdominal pains are usually paired with other symptoms. Trouble urinating or defecating, vomiting, or extreme lethargy is especially concerning when paired with abdominal or stomach pain. You should see immediate attention in this instance, as it could be a number of serious illnesses. Better safe than sorry!