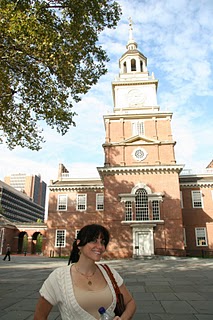 In the words of Borat, "Wa wow Wee Wa!!" That's how I felt when I ate my way through Philadelphia! Sure, the history, the Rocky steps and beautiful architecture are the main reasons to visit the City of Brotherly Love, but don't discount the killer cuisine!!
Who goes to Philly and doesn't eat a famous Philly Cheesesteak? Veggies!! But not anymore as I found a place in the Reading Terminal Market downtown with Vegan Philly Cheesesteaks and they were off the freakin' hook!! So much so that I bought some to go for my lunch the next day. I also had a delicious cream of broccoli and salivated over the rest of the menu. The place is called the Basic 4 Vegetarian Snack Bar but it's so much more then that. Besides the crazy vegan cheesesteak, they have some southern style stuff like vegan sweet potato pie and vegan corned beef!! Unique sandwiches, pizzas and deserts, this place is all you need!! The Reading Terminal Market is in downtown Philly not to far from Independence Hall at 51 N 12th St, Philadelphia, Pennsylvania 19107 – (215)440-0991.
Now this next place is hands down one of the best vegan restaurants I have EVER eaten at. Even my carnivorous honey said that if I wasn't sitting across from him, he would have been convinced he was eating meat!! And he devoured the dessert as well!! He is the worst vegan food critic and Horizons knocked his socks off and blew my mind! I had a beyond terrific mushroom trio dish that incorprated all kind of mushrooms in enchiladas, skewers and other yummalicious stuff. My boy had a grilled seitan on mashed potatoes and it was out of this world. The flavors were so well paired and the portions were perfect. But dessert was so ridiculous I had to pinch myself. A phenomenal pumpkin cheesecake with a caramel apple!! I belive theier menu changes seasonally and it is unlike any vegan restaurant menu I've seen with the same old, tired dishes. Horizons has a carribean flair and just such a great vibe. It's near the trendy South Street shopping district so not only is the food hip but so is the location. Have a drink in the downstairs lounge or gorge yourself with goodness up stairs. Find out more at Horizons.
Now if you're looking for super cool-ocity, try Morimoto. If you are a food network junkie like I am, you will know this eateries namesake as one of the world renowned Iron Chefs. Mr. Morimoto opened up a super trendy sushi restaurant in Philly and it's definitely worth a visit. It's super chic and quite yummy as they have some great tofu dishes, salads and veggie sushi ; ) Check out their stylish site for more info at Morimoto.
Lastly, if you are on the go, try the vegan "roach coach" called Viva Las Vegans. It's a vegan lunch truck that offers up quick sandwiches and shakes. They normally park just outside of downtown at 33rd street so make sure you take a trip over that way. More info can be found at Viva Las Vegans .
Philadelphia is a city with tons of history at it's core from Valley Forge, Independence Hall and even the creepy Eastern State Penitentiary but it's also home to some crazy good eats!!