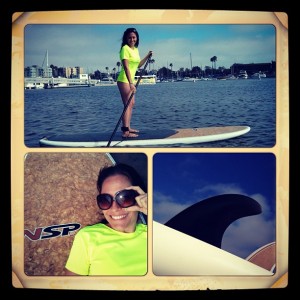 Over the last several decades, yoga has become extremely popular. It is a fantastic way of working one's muscles and improving one's overall health. A trend in yoga that has taken yoga circles by storm is stand-up paddleboard yoga. In order to get started with it, you don't need any previous yoga experience, though experts advise that you learn how to use a paddleboard. This is especially important if you aren't a strong swimmer and will be on deep water.
This article will break down and explain how you can get started with paddleboard yoga, by bringing you a few tips:
Stand-up Paddle Yoga
Stand-up paddle yoga is a very effective form of yoga, very good for working your muscles. It's likely that the positions and moves you will encounter during stand-up paddle yoga will be new to you or at least somewhat different because they have to be adjusted to paddleboarding. The reason for this is that when you are practising yoga on land, you are grounded, but when you are on a paddleboard, the wind is moving you around, and you are trying to balance on a restricted surface.
Stand-up paddle yoga requires intense focus and balance, otherwise, it's practically impossible. You have to not only be in control of your body but also the board. You cannot possibly control the weather, so you need to be in harmony with it when you are using your board. In order to get into position, you need to keep your board steady, which can be difficult. All of this will ultimately make you much better at yoga and paddleboarding. It will allow you to refine your technique, becoming more experienced and flexible. This is in part why paddleboard yoga is so popular with experienced and amateur practitioners alike.
Total Tranquillity
One of the biggest advantages of performing yoga on a paddleboard is the total serenity one finds oneself in during practice. When you perform yoga on land, there's always some kind of distraction, be it one's family, cars passing, or our neighbour's television set. This isn't the case when you practise yoga on a paddleboard. You are totally alone, with only the ocean's calming waves knocking against you. With every breath, you breathe in the fresh air. When you open your eyes after a pose, there is only water and sky surrounding you. This makes yoga a very meditative, calming experience – the way that it should be.
Getting Started
If you want to begin practising stand-up paddle yoga, then you need to first invest in a board. Most experts agree that the Bluefin yoga paddle board is one of the best, though you should read independent and customer reviews before making a purchase. Paddleboards specially designed for yoga tend to be wider, have more volume, and have longer deck pads. This is to improve stability.
Attending Classes
Once you have a board, you can begin attending classes. It's very important that you do this if you are not yet familiar with paddleboarding. If you have previous paddle boarding experience, then you can forego classes, though experts advise attending one or two specialist paddleboard yoga classes, just so you can brush up on your technique.
Benefits of Stand-up Paddle Yoga
Yoga has many health benefits, as does paddle boarding. Combined, the benefits are many. Your workout when performing paddle yoga is very intense, helping you to improve your muscle strength and overall health. You have to paddle out into the sea or a lake to start, so you get the benefits from paddle boarding, then you begin practising yoga, and get the benefits of that too.
Some of the benefits of stand-up paddle yoga include:
Improved yoga technique on land

Stress, anxiety, and depression relief

, because of the exposure to nature

Breathing techniques improve

Muscles are strengthened and built

Your flexibility increases significantly

Your balance also improves
Going Prepared
It's very important that you go prepared if you are going to practise stand-up paddle yoga. You should, as already mentioned, have your own board. You should also have the proper clothing, which is ideally stretchy, water-resistant, and comfortable. You need stretchy clothes so that you can perform yoga poses. You should also check the weather out before you leave your house. If the weather's particularly unfriendly, then you should instead perform ground yoga. Make sure that you wear a life jacket if you are not a strong swimmer.
Paddleboard yoga is lots of fun. It's a great combination of meditative practice and water sports. You're guaranteed to love it. You can perform it anywhere, as long as the water is calm. You could even perform it in a swimming pool!