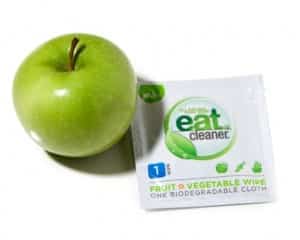 Ok, so maybe a portion of us actually wash our produce before consuming and even that portion only rinses with water.
By just rinsing with water, you still consume pesticides, chemicals and germs that remain trapped in the wax used
to protect and seal the produce in transit, among other things. EVEN when you buy organic!
So what's a plant eater to do? Use Eat Cleaner!
Eat Cleaner is an all natural, chemical free veggie and fruit wash that strips away
all the yuckiness on the surface of your vibrant produce.
In celebration of Eat Cleaner's first anniversary, two lucky winners will receive
a 30 Count tray of individual wipes (great for purses, lunchboxes, briefcases, etc) as well as a 40 Count Canister of their nifty wipes!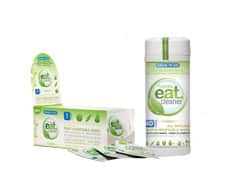 How to enter our Eat Cleaner giveaway:
Leave a comment telling us why you want/need to Eat Cleaner!
Be sure to leave your email as well so that I may contact the winner. Winners will be chosen next Monday, September 20th by random.org.
Deadline for Entering is 11:59 PM PST, Sunday, September 19th.
Good luck!!
xoxo
**We do not share your email with anyone nor do we add you to our mailing list
**Only entries from the U.S. and Canada are eligible to win**